Details

Published: 24 June 2018

24 June 2018
June 22nd and 23rd the Lions Striders team competed in the 8th annual SLAM T1D Vermont Summer Classic Wiffleball tournament held at Little Fenway in Essex Vermont. SLAM T1D is a non-profit that raises funds to improve the lives of people living with TID. They accomplish this by partnering with the Barton Center for Diabetes Education to host the Vermont Overnight Camp. They also work to broaden public awareness of diabetes and seek to empower TIDs of all ages to advocate for themselves, develop optimal T1D-management regimens, and to live life in full.
Middlebury Lions Paul Desabrais and Jesse Gillette led our team effort, joined by PDG Ken Emory and a great group of volunteer players who just wanted to have fun and play ball. The odds on the Lions Striders had us ranked 8th prior to start of the tournament. No one was more surprised than the team when we found ourselves placing second overall in the Championship game.
The real winners are the kids who will benefit from our fundraising efforts.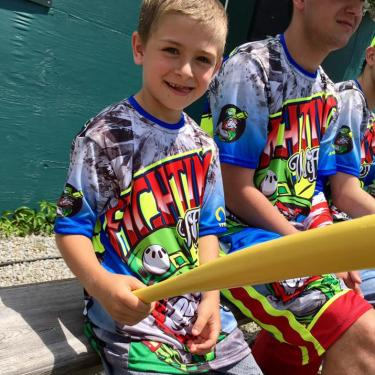 The Lions Striders were able to donate $4,385 to SLAM T1D and we thank all those Lions and Lions Clubs who stepped forward to donate. The 14 teams donated a combined $71,895 to SLAM T1D. That's a lot of kids attending camp and a lot of services provided to area diabetics.
The experience itself was rewarding. We had a chance to meet and compete with Cayden and his team the "Fighting Wifflers" Cayden was diagnosed with T1D when he was only 2 years old. He is now 8.
The "Breaking Ballers" team was formed by Carrie Ashley. "My 18 yr old son Eli (photo below left, he's on the right), was diagnosed with T1D on his 5th birthday. Eli has never known what it's like to be at school, play sports, work or be with friends without worrying about his T1D. It is a relentless, non-stop 24/7 disease that never takes a break. Let's improve the lives of all children and adults living with T1D by raising awareness. As our children grow up and become independent, they should feel safe, whether it's at college, at a job or anywhere, awareness can save lives!"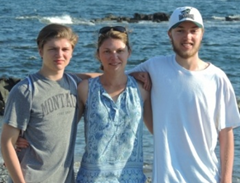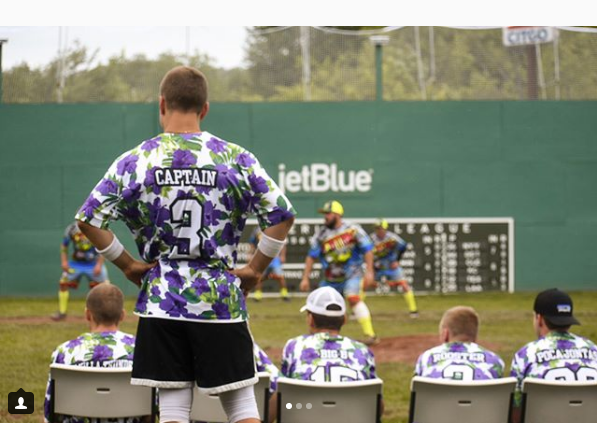 Jack Carney (Right), captain of the "Purple Pumpers" team has been living with T1D since he was a child. The Pumpers were the odds on favorites of the weekend having won the tournament for the last two years running.
The Champions of the day were "The Garage" lead by Liam O'Farrell. He and his daughter are true champions living with T1D every day. Here are his own words: "Living with type 1 diabetes is extremely challenging. The disease is relentless, requiring constant 24/7 monitoring of your blood sugar, your insulin doses, your activity level and your food intake. You NEVER get a day off. I know....because I have been living with this chronic illness for 37 years now. 3 years ago, my daughter Maggie was also diagnosed with type 1. Now she is having to learn how to manage this disease.
I am passionate about connecting with children and adults who live with type 1 diabetes, so that I may be fortunate enough to share with them what I have learned over the past 37 years. If I help even one child or young adult improve their ability to manage this relentless disease, then I have succeeded!" The Garage Team Photo with the tournament trophy: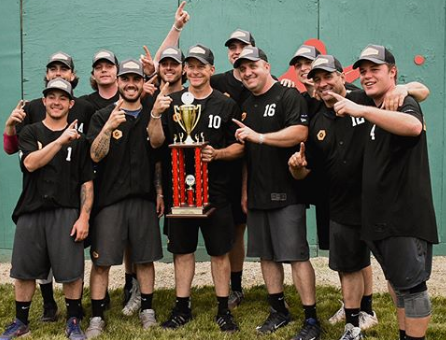 There were plenty of Lions in attendance to cheer us on and enjoy the day. The entire event was so enjoyable that Lions Paul and Jesse are already discussing how we can improve our fundraising and our batting average for next year. "Last Tuesday our roster was just Jesse and I, placing 2nd wasn't even a thought" said Lion Paul.
Striders Team Roster: Lion Paul Desabrais; PDG Ken Emery; Lion Jesse Gillette; Jordan Broughton; Carsyn Buxton; Lilah Desabrais; Charlie Desjadon; Makayla Foster; Derek Gero; Kate Moyer; Kevin O'Rourke; Justin Raymond; David Roy; Loriann Roy; Chelsea Trombley; Amanda Warren; Brent Warren.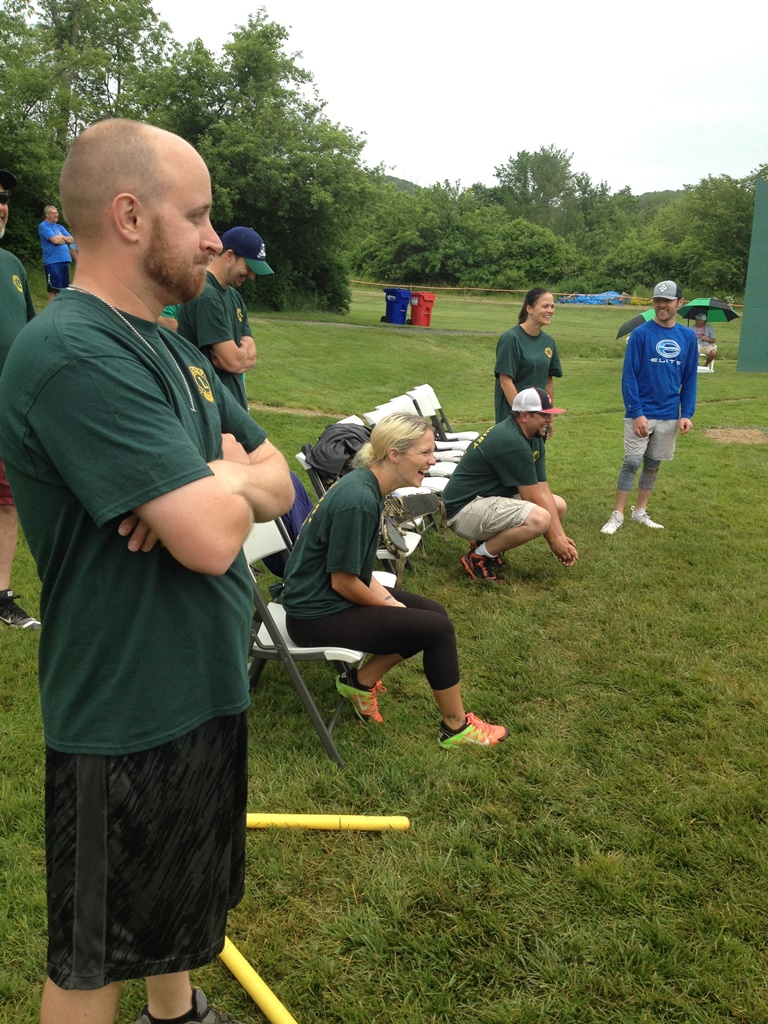 Chelsea (above) was a guaranteed base earner and outstanding fielder. Charlie (above - at bat) had wings in the outfield and many awesome diving catches.
(Left) Middlebury King Lion Paul Desabrais pitched more than a third of the 7 games and served as co-captain with Lion Jesse Gillette who is also a pitcher and fielder. That's Jesse barefoot and at bat below with PID Tom Broughton, Charlene Broughton, and Lion Jackie Dutil watching from the stands above.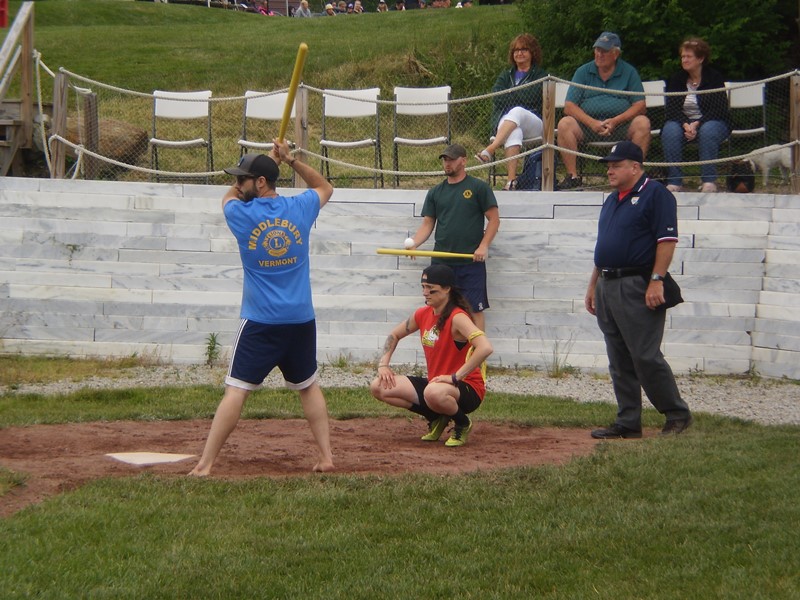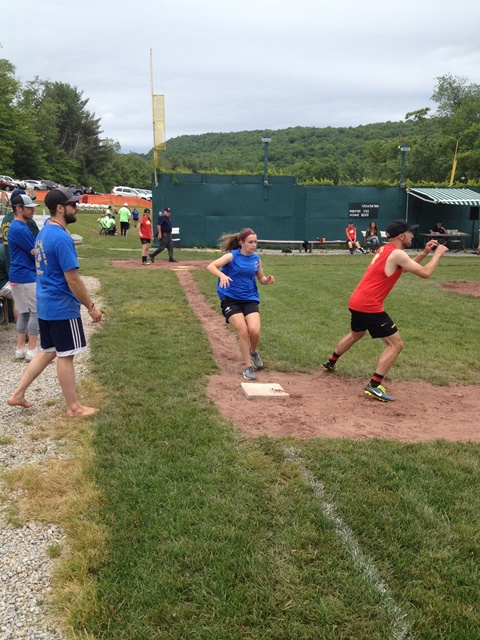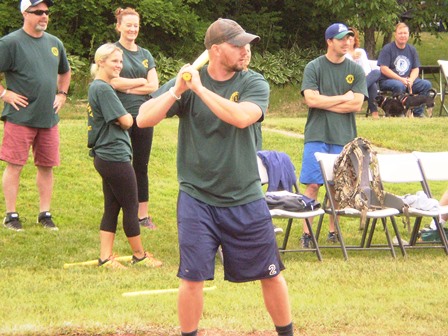 Justin Raymond (above at bat) played third and had the guns to make first reliably. His game play was incredible.
Makayla Foster (right) steaming into first while base coach and co-captain Jesse Gillette watches for opportunity.
PDG Ken (Below left) about to test Fenway's Green Monster
Striders pose for a shot with Champions "The Garage" (below right)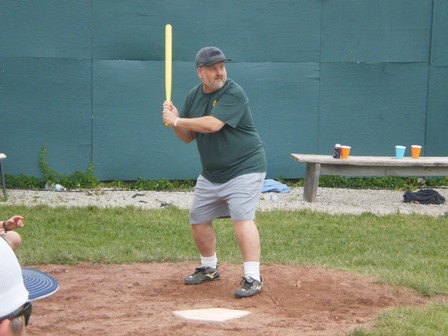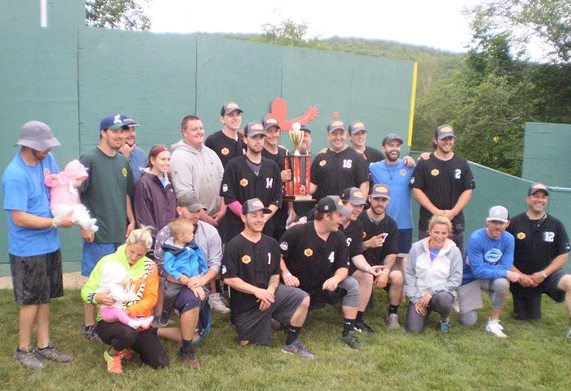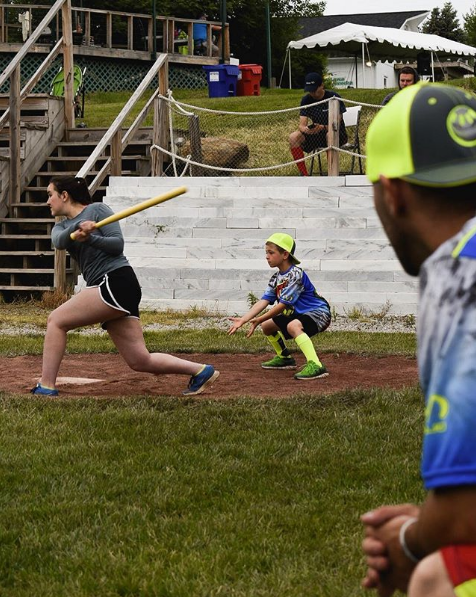 Here's another shot of 8 year old "Fighting Wiffler" Cayden playing as catcher.