Details

Published: 29 June 2018

29 June 2018
LIONS "Opening Eyes" at Vermont Special Olympics Summer Games
Health professionals and volunteers from across New England gathered at the University of Vermont to provide comprehensive health screenings for children and adults with intellectual disabilities at the Special Olympics Vermont Summer Games on June 2nd. A Special Olympics partnership with the Lions Club International Foundation supported vision care for the participants. In total, 118 volunteers provided 563 health exams in one day.
At the Special Olympics Vermont Summer Games at the University of Vermont on June 2nd and 3rd, dental, vision, and hearing exams were offered to all Special Olympics athletes. Through Opening Eyes athletes have access to vision screenings. Custom glasses and sunglasses are made available as needed at no charge to the athlete.
Of the 435 athletes competing in the 2018 Special Olympics Vermont Summer Games, 242 received a dental screening and 17 of those were identified as needing urgent follow-up dental care. 153 received an audiology screening, and 168 received a vision screening. This represents a 23% increase over the previous year and an all-time record for Healthy Athletes screenings.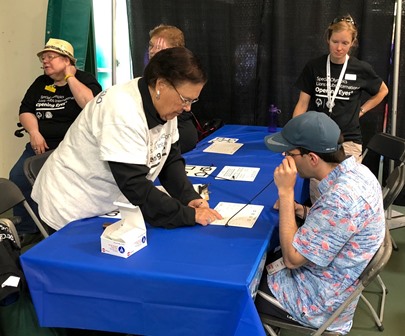 Lion Jackie Cote was one of over a dozen Lions volunteers. She shared her thoughts of the day in a thank you note to fellow volunteers "Such a wonderful day with all of you and the Special Olympians again! Many thanks to Dr. Dorothy who has gotten this vision screening going again, for several years now. It is truly a wonderful and very much needed service, which anyone in attendance today could easily observe!
It is also such a meaningful event to me. I was at the special luncheon and meeting at the Shriver home in Maryland when Tim, his mother Eunice Kennedy Shriver, his father Sargent Shriver, and representatives of the Special Olympics organization met with the Lions Clubs International Board of Directors and Executives to announce that day that the Lions would be partnering with the Special Olympics, to provide services in the field of vision to the Olympians, especially at their events.
Before and after this luncheon, Special Olympians and others were out on the lawn playing games together, as was often done at the Shriver home. As you probably already know, Eunice Kennedy Shriner founded Special Olympics, and her son Tim has carried on. Seeing all the activity in progress today brought back so many memories of that wonderful day at the Shriver's home and seeing that newly formed Lions partnership still in action today.
When walking around for a bit, I saw one young lady whom I'd had at my table earlier which resulted in my thinking-- she'll be a candidate for some new glasses!
As I walked by her and her mom, she was sooo gleefully trying on a pair of bright green frames for her new prescription (after apparently having tried on several others), and saying to her mom with such excitement and a huge smile, "these are the ones!!" - and her mom was agreeing with her decision.
The rest of the time I was busy, but know a similar scenario must have been evident many times today. Can you imagine her comments a little later on when she actually put on those frames again WITH her new prescription in them?? And there's probably no emoji big enough for that smile!" - Lion Jackie Cote