Details

Published: 11 December 2018

11 December 2018
Granville Lions Donate Building for Food Shelf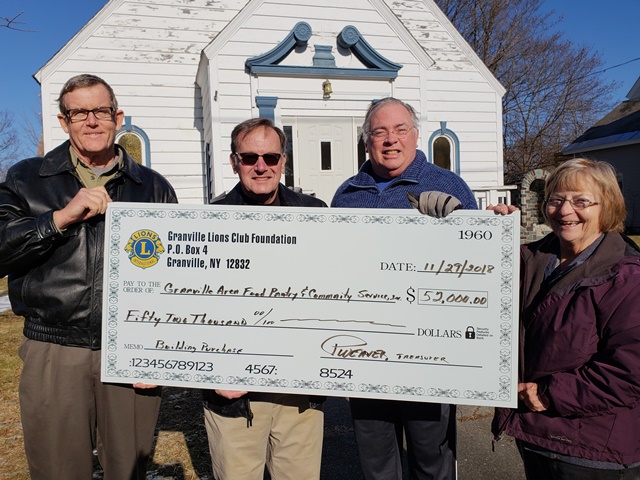 PHOTO: (L-R) - Granville Lions President Bob Tardie and Granville Lions Foundation Treasurer Phil Weaver present a check for $52,000 to Granville Area Food Pantry Board President Jerry McKinney and Food Pantry Director Syndy Anoe. The food pantry's new building is in the background.
The Granville Lions Club Foundation, Inc. has donated funding to the Granville Area Food Pantry and Community Service, Inc. so that it may have its own building in the village of Granville. The club's foundation gave the Food Pantry $52,000 to purchase a former church building located on Morrison Avenue in Granville. Transfer of the deed to the property from the Roman Catholic Diocese of Albany to the Food Pantry took place on Nov. 29.
"This will better enable us to help serve the food insecure in the Granville area," said Syndy Anoe, director of the Granville Area Food Pantry.
Purchase of the building for the Food Pantry by the Lions Club has been in the works for almost two years. The Lions Club heard that the Food Pantry was losing its space at St. Mary's Church. Shortly afterward, Granville Lion Ron Barrett learned that St. Mary's Church would be selling the former church building next to Veterans Park, and brought that information to the club's board of directors.
The board of directors of the Granville Lions Club began discussions about the feasibility of purchasing the building for the Food Pantry. They decided to pursue it as a Lions "Centennial Project" to celebrate 100 years of Lions International. After many meetings with the Food Pantry and diocesan officials, terms were agreed upon and the process began to complete the sale.
The legal requirements of transferring church property to a non-religious organization were substantial and took many months, including several months awaiting approval from the New York court system. But patience on the part of all parties paid off, and the Granville Area Food Pantry now has a permanent home.
"The Granville Lions Club is extremely happy to finally see this project come to a favorable conclusion," said club President Bob Tardie. "This has been yet another opportunity for our club to contribute to the welfare of our community, which is what Lionism is all about."
The donation was made by the Granville Lions Club Foundation, a not-for-profit formed in April 2016 as the charitable arm of the Granville Lions Club. As a 501(c)3 corporation, the foundation can accept tax-deductible bequeaths and donations. It also distributes all of the club's donations to local and regional beneficiaries. The Granville Lions Club raises funds for its donations through its annual patio furniture sale that takes place every May through August. For more information about the Granville Lions Club, contact club President Bob Tardie at 802-345-0480.