Details

Published: 10 October 2017

10 October 2017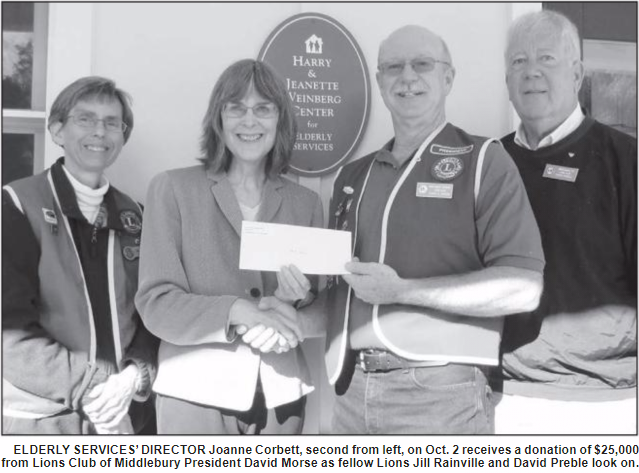 Lions donate $25K to Elderly Services
(Story by Addison Independent) -The Lions Club of Middlebury on Oct 2 presented Elderly Services Inc. with a $25,000 check dedicated to completion of the Eldercare Excellence Major Gifts Campaign of 2015-2017.
Club President Dave Morse presented the check to ESI Executive Director Joanne Corbett, recalling that, "We pledged this gift to Elderly Services back in 2015 when they embarked on a $1 million capital campaign and said we would donate $25,000 when they raised the balance of their $1 million. That brings us to today and our wish to congratulate them on a wonderful success."
Elderly Services operates Project Independence Adult Day Center six days a week at its Exchange Street headquarters in Middlebury. The agency also offers lifelong learning classes for older adults through their ESI College Program. ESI's Geriatric Social Work Practice provides counseling and problem solving to elderly people and to their families.
"Our Eldercare Excellence Campaign marked the 35th Anniversary of Elderly Services and the 10th year in our new building," explains Joanne Corbett. "We quietly asked for help from our major donors as we needed special funding to address the upkeep needed for our buildings, our grounds, and our furniture and equipment. Maintaining a beautiful and smoothly functioning facility is critical to our quality of care."