Details

Published: 13 August 2021

13 August 2021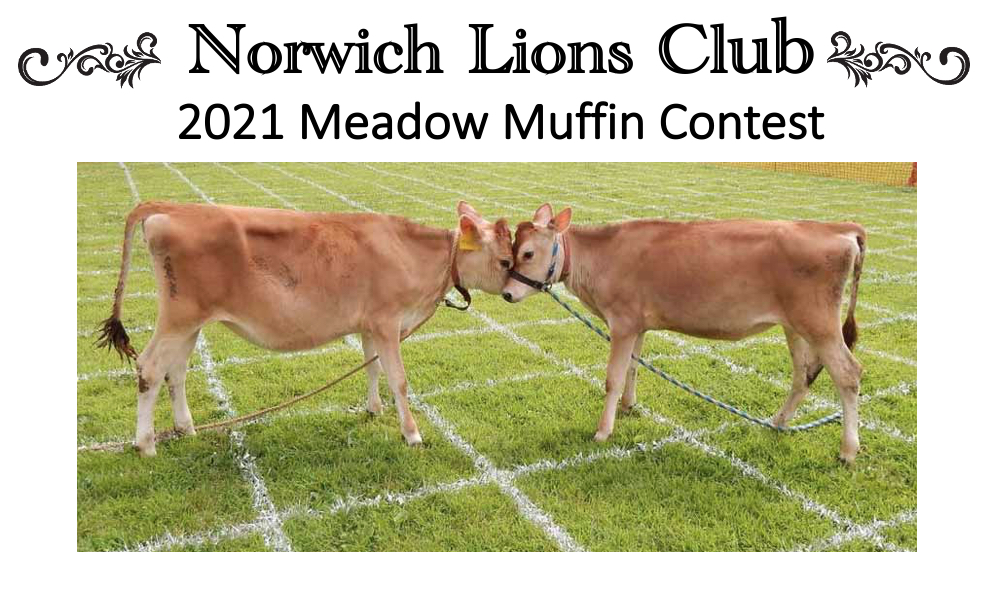 The Norwich Lions Club Meadow Muffins contest is a popular annual tradition, whereby participants "buy" one or more numbered plots of land in a fenced-in area for $20 each, for which an assigned, randomized number matching a corresponding "deed" has been assigned to each plot.
This year, the contest is on line at: https://www.32auctions.com/MeadowMuffins2021,
Look for the green VIEW ALL ITEMS buttons to pick a deed number to buy. (Deeds are displayed 50 at a time, so use the buttons to see higher-numbered deeds.) If you want to buy MULTIPLE DEEDS, click on the "Watchlist" heart associated with each and they'll be waiting for you to purchase after clicking on the "Watchlist" heart at the top. Your credit card purchase will complete the process and make you eligible for the contest.
On October 9, up to three heifers will be brought into an enclosure with the plots laid out in a grid to determine the winner and runner-up by depositing a "meadow muffin" on the square of two lucky prize recipients!
First Prize: $1000 (1 in 500 chances)
Second Prize: $500 (1 in 499 chances)
Third Prize: The satisfaction that you contributed to a good cause! (498 in 500 chances)
If you are a winner, you will be notified by email or phone.
Three impartial judges will be appointed to oversee the contest. In case circumstances prevent a meadow muffin deposit from determining the winners on the appointed date, the judges will draw the winning numbers from among the tickets sold. In case of errors in the sale of the Meadow Muffins, the judges will determine a fair outcome.
The contest raises funds to support community organizations, as described at www.norwichlionsclub.org and summarized, below.
In addition to providing glasses and hearing aids to people needing them in the community, auction revenues allow the Norwich Lions Club to provide support to Upper Valley organizations.
2021 grants included the following recipients (of 35):
• Norwich Nursery School: STEM Learning Materials
• Good Beginnings of the UV: Education Support Program
• Vermont Association for the Blind: Smart Device Training Program
• Bugbee Senior Center: Bugbee's Digital Renovation
• Upper Valley Haven: Feeding Hungry Children in the Upper Valley
• Norwich Community Nurse: Medical Equipment
• Willing Hands: Healthy Fresh Food Boxes
• The Family Place: Children's rain suits for Early Care and Education
• Norwich Public Library: Expanding Digital Collections