Club Toolbox...
Tools for Club Program Development
Details

Last Updated: 19 January 2018

19 January 2018
This is a work in progress and please send me your thoughts and ideas on how to improve this topic's content.
One of the AWESOME things about Lions Clubs is that 100% of every dollar raised from the public must be returned to the public.
So how do we raise funds for our administrative account? What is acceptable and what is not?
First to restate what we all know. We maintain two accounts. The Service account contains all funds from the public and must be returned to the public. The Administrative account is where your dues go and all of our administrative expenses, like stamps, awards, International and District dues, board insurance (if applicable)... get paid. International's "Use of Funds" policy defines Administrative funds as: Administrative funds are contributions from Lions through dues, fines, advertisement revenue, rental fees and other individual Lions contributions. These funds may be used for either public projects or for internal Lions use such as meeting and convention expenses, incorporation fees, audit fees, newsletters, bulletins and other club and/or district operating and administrative expenses.
Many clubs have administrative costs that exceed the funds raised by dues alone...how do they make up the difference? How do they raise additional Administrative funds? This article hopes to give you some ideas.
The Tried and Tired methods (but they work):
Raise your local dues - That's a horrible idea!!! Raising dues makes retaining members and recruiting new members even more difficult. Some Vermont Lions clubs have ZERO loacal dues. One that I know of even subsidises members District and International dues so that their total annual dues are only $40.
Charge an admin tarrif on your meals. It works, but isn't it really a hidden dues increase? Exception... this is a BRILLIANT idea when hosting the Traveling Lion (just remember that what goes around, comes around).
Plus up fees on club T-Shirts, Vests, pins and the like. Again this works, but it's only passing on costs to membership.
Some other ideas outside the norm:
Listen to your community needs through the newspaper, Craigslist, Front Page Forum and by word of mouth. There are plenty of folks out there who have odd jobs that need doing. Yesterday I stacked a cord of wood with a fellow Lion and we made $100. I cashed the check (it was made out to me) and gave a $100 donation to the Lions Club Admin fund. Earlier this year three of us Lions made $300 pulling a dock from the lake for the homeowner.
Some clubs cater events hosted by others. If Vermont High School (or ZZZZ Golf course) is having a sporting event and a Lion Ralph gets permission for his company to cater the event. He can donate the proceeds from the event to the Admin fund, and the Admin fund can be used to pay the operating expense for Ralph's company. Please note: No Lions emblems and no public decleration of donation to Lions can be made or the event beomes a "Public" event and the funds must go to service. Think of it this way... If Joe is looking to buy a hot dog and says "3 dollars is outrageous" - that's OK. If he says "At least the $3 is going to a good cause" - That's a public event and the funds must go to the service account. International's

Use of Funds FAQ

talks about this same situation in the Public Fundraisers vs. Private Lions Fundraisers section quoted here Our Lions Club is working the vending area at the local football game and is getting paid a percentage of the sales by the stadium. May we designate our payment as administrative funds? Yes, so long as this is the agreement between the stadium and your club and no Lions name or logo is displayed in working the event through signs or clothing.
Some Clubs have a Calendar service project. Did you know that income from the sales of advertisements in your Calendar can go to the admin fund? I don't make this stuff up....it's # 29 in International's Use of Funds FAQ.
Some businesses are becoming clever in how they obtain seasonal help, you have to listen up to learn where the opportunities exist. Here's a great recent example: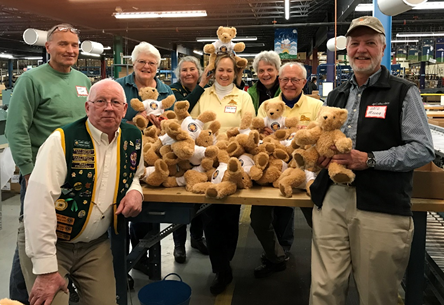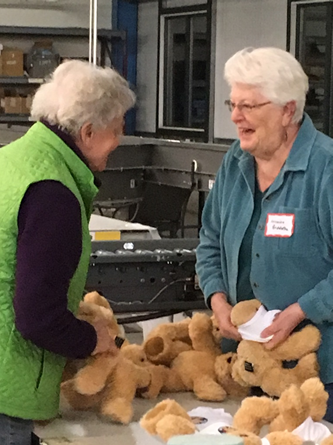 Lion Sue Hayes and Lion Lorraine Goddette dress teddy bears while "working" at the Vermont Teddy Bear Factory. Lion Kathy Cannon arranged for two fund raising evening events before their holiday rush. Watch for more opportunities to help as we get closer to Valentine's Day. The money we raise goes to our administrative budget and we can use all the volunteers we can get! The Admin fund can receive gifts received from the public, or businesses, that are received with specific directions to be used for the administrative purposes of the club Use of Funds FAQ # 23.
5. Think outside the box. If a member had an apartment that needed renovation there is nothing stopping the Lions from renovating the apartment in return for a percentage of the rent for an agreed upon period of time...to be donated to the admin fund.
6. PDG Larry Simino shared "In the past, the Vergennes Lions Club painted my house for the Admin. Fund. Ten years ago, they cleared our lot for our new home, all for the Admin fund"
7. Do you have a boat or lake cabin you can occasionally rent out and donate proceeds. Make sure your fellow lions help you clean up!
8. Do you have a member that loves to grill?...form a catering group and get hired to feed groups - just don't display your Lions logos or create the impression that they are benefiting the public by hiring your team. Then donate your proceeds to the Admin fund. You earned it, you can do what you want with it. Does your Lions insurance cover you? Yes it does.