Lions Clubs International Foundation (LCIF)

DOWNLOAD: LCIF Donor Contribution Form & MJF Application
The Melvin Jones Fellowship Award. Lions Clubs world-wide recognize outstanding individuals by bestowing on them an award that is named for its founder, Melvin Jones. This award is the highest form of recognition and embodies humanitarian ideas consistent with the nature and purpose of Lionism.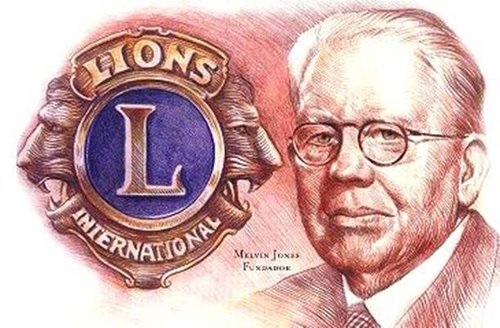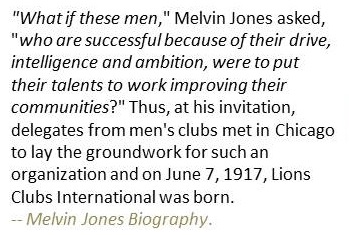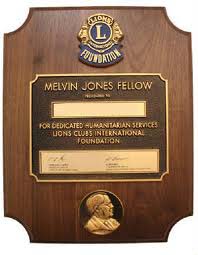 LCIF and the Melvin Jones Fellowship
The Melvin Jones Fellowship (MJF) is the backbone of Lions Clubs International Fountation (LCIF), providing 75 percent of the foundation's revenue. As recognition of humanitarian work, the MJF is awarded to club and community members that have performed outstanding community service. Each nomination is accompanied by a $1,000 donation from the sponsor to LCIF.
District 45 Melvin Jones Fellows (Alphabetical with date of award. * indicates additional awards - Progressive)
ADAMCZAK, PAUL 04/21/2005
FORTIER, WENDELL 01/06/1992
NEWTON, CORY 05/19/2011
ADINOLFI, JACK 07/15/2008
FOWLER, GARY 12/03/2009
NEWTON, WALLACE 02/10/1992
ALBERT, MARY LOU 03/19/2004
FRAZER, DAVID 12/08/1993
NICHOLS, PAMELA 02/04/2014 *
ALDINGER, BARRY 03/23/2015
FREEBORN, CAROL 03/19/2004
NILES, JAY R 01/06/2006
ALDRICH, CHARLES H 06/21/1989
FREEBORN, PETER 04/03/2001
NILES, MARY ANN 03/17/2010
ALMOND, DAVID R 07/15/2008
FREED, RICHARD 03/12/1991
NORFLEET, GEORGE S 05/09/2001
ANDERSON, BETTY 04/07/2006
FREITAG, JOHN 04/15/2002
NOURSE, DAVE 05/19/2011
ANDERSON, JAMES A 06/24/1993
FRET, ROBERT 03/28/1988
NOYES, HERB 03/22/2004
ANDERSON, KATHLEEN E 05/19/2011
FULLER, GEORGE I 03/27/1989
O'CONNOR, PAT 03/29/2011
ANDERSON, ROBERT A 10/15/2002
FULLER, JUDITH 03/18/1999
O'DANIEL, MICHAEL L 04/27/2007
ANDREWS, REJOYLN 03/19/2013
FULLER, PAUL 03/26/2001
O'DAY, JOHN 04/05/2002
ANDREWS, WILLIAM 09/28/1994
GAGNIER, GERALD 04/07/2006
O'DAY, MARY JO 04/22/2014
ANKUDA, DEBORAH N 03/06/2017
GAINES, MACKY 05/02/2012
O'NEILL, EDWARD C03/23/2015
PATRICK M ANKUDA 04/30/2012
KATHLEEN M. GALLETT 04/07/2010
JOSEPH A ORZELL 03/29/2011
RICHARD ARCHAMBAULT 05/04/2009
MICHAEL GALVIN 05/23/2001
WILLIAM OSGOOD 09/26/2017
G JOHN ARNOLD 04/14/1993
DONALD F GANDINI SR. 04/19/2007
DON OTIS 12/16/2008
RICHARD ARRISON 10/19/1993
JOHANNA GANDINI 05/01/2006
THELMA K OXHOLM 05/01/2014
JOHN D AYER 01/30/1996
RONALD D GARDNER 01/24/1991
L RICHARD PAQUETTE 06/10/2004
CHRISTOPHER E AYERS 05/02/2012
SILVETTE W GARDNER 11/29/2006
THOMAS PARADEE 05/15/2014
PATRICIA A BABCOCK 05/23/2008
CAROL R. GARROW 02/21/1994
DAVE PARDO 01/12/2001
HOWARD FRANK BAILEY 04/19/1994
LEONARD W. GARROW 10/11/1994
MAURICE PARENT 11/22/2005
GARY F BAKER 05/11/2007
LISE GATES 04/16/2012
PIERRE PARENT 04/29/2003
CHARLOTTE BALLOU 04/20/1999
ALBERT GEBO 04/03/2001
BERNARD E. PARIZO 02/27/1990
WILLIAM C BALLOU 03/25/1994
RICHARD W GEDNEY 01/11/2006
BARBARA C PARKER 04/05/2002
ERNEST H BANCROFT 03/18/1998
SHEILA K GEDNEY 06/10/2008
CHARLES F PARTRIDGE 06/11/1992
CHARLES ALLAN BANFORTH 12/02/2002
ALANA ST GEORGE 04/03/2007
STANLEY F PATCH JR 04/18/1990 ******
RONALD L BARRETT 04/04/1990
ARNOLD GEORGE 10/18/1996
FRANK PATURZO 02/21/1994
ROBERT C BARROWS 09/28/1994
HENRY GEORGE 05/12/2005
LEO PAUQUETTE 04/02/2008
ELAINE BARRY 11/17/1997
NORMAND GERVAIS 04/29/2003
S. KEITH PAYNE 11/09/2012
ALLAN R BARTLETT 06/02/1994
ROLAND G. GERVAIS 06/16/1993
ALBERT PEARCE JR. 04/16/2008
MARGARET BARTLETT 06/02/2003
FRANK ALLEN GIBNEY 01/25/2005
FLOYD C PECK 06/29/1988
ROY W. BARTOW 06/29/1992
RAYMOND GIROUX 10/15/2002
MERRILL E. PERLEY 06/02/1994
DAVID BEAN 04/12/1996
DIEDRE GISH 03/08/2007
MARK PERRIN 05/19/2011
PAUL L BECK 05/04/2004
ANITA GLENNON 01/06/2006
DAVID WILLIAM PERRON 04/03/2007
BEN BEERS 06/17/2008
JOHN GLENNON 05/07/1993
ALBERT PERRY 04/07/2006
CARMELITA A BELISLE 05/02/2012
ALBERT GOLLNICK 10/14/2008
HOLGER C. PETERSEN 03/27/1989
MAGGIE BELVAL 04/16/2008
ALICE GONYAW 01/30/1998
JAMES C PETERSON 07/20/2004
GILLE BENOIT 04/24/1993
PHILIP B GONYAW 12/08/1995
ARTHUR H PFENNING 11/12/2009
CINDY BERG 02/23/2016
DANA GOODNOW 09/25/2014
JEAN PFENNING 11/16/2009
SIDNEY BERKSON 03/23/2004
HERB GOODRICH 06/11/2014
SUSAN PHELPS 03/01/2006
DEBORAH E BERNAL 10/23/2014
GARY N GORTON 04/02/2013
TRACY PHELPS 03/01/2006
EUGENE BERNAL 12/10/2007
STEPHEN C GRAHAM 10/29/2010
RODERICK C PHILLIPS 01/06/1992
CHARLES G BERRIO 04/08/1997
TERRY GRAHAM 03/14/1993
ALBERT DAVID PIERCE 10/18/1996
LORRAINE D BERRY 04/22/2014
JOSEPH L GRANT 04/10/1996
LEON W PILLSBURY JR. 09/14/1995
PAUL BESSETTE 04/02/2013
WILLIAM GRANT 04/04/2001
ALAN L PINDERS 03/19/2004
STEVEN P BETIT 05/20/2005
ANN M GRAY 04/21/2005
JANET PIPER 11/09/2012
CLEON A BIGELOW 10/12/1994
WAYNE GRAY 11/01/1995
KARLEEN PLACE 04/02/2013
HELEN J BIGELOW 03/23/2015
CAROL GREENE 03/06/2017
BERTRAND PLANTE 12/04/1996
RANDY BIGELOW 04/26/2017
CHESTER GREENWOOD 11/23/1987
PAUL PLANTE 04/16/2008
RICHARD BILLINGS 07/30/1991
JAMES J. GREER 04/26/1993
FRANK H. PLIMPTON 04/19/1994
GEORGE BILODEAU 04/02/2003
RICHARD T GRIMLEY 12/19/1994
FREDERICK POCKETTE 02/23/2016
CLINTON BIRCH 11/08/2007
WILLIAM GROSS 04/16/2008
MYRA POLAND 04/07/2003
MARK BISSELL 04/25/2013 *
DALE L GUERTIN 04/03/2007
RICHARD W POLAND 11/17/1997
WALTER BIXBY 05/12/2016
EVANGELINE VANGIE GUERTIN 04/07/2006
ANDREW L POND 04/04/2017
DONNA M BIZON RN 04/02/1997
RICHARD GUEST 04/16/2007
ARTHUR ROGERS POND 03/02/2007
STANLEY J BIZON 09/08/2010
LEWIS A. GUFFEY 05/13/1997
RICHARD R POQUETTE JR. 09/28/1994
THOMAS M BIZON PDG 05/06/1994
PHILIP J GUICA 04/11/2011
VALERIE POREMSKI 05/07/2008
CHARLES BLANCHARD 05/26/2000
CATHERINE E HALL 05/18/2011
PHYLIS PORIO 12/18/2014
R ALDEN BLODGETT 04/13/1995
RAYMOND E. HALLER 10/25/1989
JOYCE POTENZANO 02/23/2016
MICHEAL BLOOD 11/15/1994
LOUISE HANDY 05/12/2008
STEVEN P POULIOT 01/30/1998
NOEL C BLOUIN 04/04/2000
MARK HANNA 12/16/2016
ROSCOE PRATT 04/05/1995
STEPHEN BLOW 05/07/1999
HENRY C HARDT 06/17/1993
DAVID E PREBLE 04/05/1995
ROBERT BLUE 06/13/2005
WILLIAM HARDY 05/31/2000
GERALD 'GERRY' QUESNEL 06/18/1990
CYRIL BLUTO 05/08/1989
KENNETH HARRISON 05/14/2009
THOMAS RACINE JR. 04/05/2002
THOMAS CYRIL BLUTO 04/10/1995
KENNETH HART 06/11/1992
GILLES J RAINVILLE 05/02/2012
JOSEPH BOGAN 02/23/2016
NELSON HART 03/25/1991 *
PATRICIA RAINVILLE 04/22/2014
DAVID BOLDUC 04/02/2013
DAVID D HASSEBROEK 03/19/2004
HARJIT RAKHRA 10/01/2008
ERNEST G BOLOGNANI 05/06/2003
WALTER HASTINGS 03/06/2017
HANK RANSFORD 03/26/2009
RAYMOND BOLTON 03/29/2011
ELLINOR B HAUKE 08/18/2004
GEORGE RATCLIFFE 06/29/1993
HAROLD C BOMHOWER 10/27/2000
WILLIAM R. HAUKE SR. 04/04/1988
HAROLD W. RAY 05/14/1990
RUDOLPH BONDONE 04/26/1994
DONALD C HAVENS JR. 04/14/1993
EVELYN A REED 05/02/2012
VALENTINE W BONK 06/02/1994
EDWARD HAVERLAK 03/28/1988
HAROLD REED 11/12/1999
JEAN PAUL BONNEAU 03/13/2001
JAMES HAYES 06/02/1994
DAVID B REID 04/16/2008
DIAN R BOUCHARD 02/20/2003
THOMAS E HAYES 04/02/1997
LAWRENCE H REILLY 03/29/2011
PIERRE BOUDREAU 04/05/2002
ARTHUR A HEALD 04/11/2012
LYLE R REMICK 07/30/2009
RAYMOND BOUFFARD 03/23/2015
ALLAN R HEATH 06/03/2005
RUSSELL D REXFORD 04/22/2014
DELBERT BOUTWELL 05/01/1992
FERNANDE C HENSON 06/12/2012
BURTON A REYNOLDS 10/15/2008
MICHAEL BOWEN 09/24/2012
MERRITT HEWITT 04/02/2012
PATTI REYNOLDS 03/23/2009
CURTIS BRAINARD 04/26/1993
ALLEN HICKEY 12/19/1990
JOANN M RHODES 09/28/2010
GARY BRAINARD 02/26/2002
C DENNIS HILL 03/18/1998
STANLEY F RHODES 09/28/2010
ROBERT C BRAULT 04/01/1999
KENNETH F. HILL 12/10/1993
ERIC RICHARDSON 04/07/2010
JOHN J BRENDEL 04/22/2005
LIBBY HILLMAN 10/31/2002
ALBAN RICHEY 06/29/2012
JOYCE BRILL 03/01/2004
DAVID HIMES 04/26/2002
LAURENCE J RIIS 04/19/1999
WESLEY BRISTOL 07/31/1996
SCOTT HINMAN 03/29/2011
EDMA A RILEY 02/23/1996
JAMES W BRITT 02/21/1994
THERESA HINMAN 04/03/2001
DONALD E. RITCHIE 11/26/1991
JEAN BRITT 04/01/1999
WILLIAM HINMAN 02/23/2016
JAMES L ROBERTS 03/17/2010
ROBERT W BROOKS 11/09/2012
WILLIAM T. HINMAN, SR. 01/16/1995
RICK ROBERTS 05/06/2003
ROY I BROOKS 05/23/2001
HARRY H HINRICHSON 04/22/2014
WILLIAM ROBERTS 01/14/2002
SUSAN L BROOKS 04/16/2008
CLAIRE HOOKER 06/02/2010
VINCENT N ROBINSON 04/13/1995
JOHN M BROUGH 06/23/2006
WILLIAM O HOPKINS 12/07/2001
ROZ RODGERS 03/23/2015
CHARLENE N. BROUGHTON 04/24/1995
BEVERLY J HORTON 09/18/2002
RICHARD W ROWE 08/10/1994
HENRY BROUGHTON 03/26/2009
PAUL HORTON 07/12/1996
ROBIN ROWE 04/07/2006
MATT BROUGHTON 10/15/2002
CLIFFORD HOSKING 04/18/1995
RAYMOND ROYCE 04/16/1998
ROBERT BROUGHTON 03/06/2017
REGINA L HOULE 11/12/2009
CHRISTINE A RUSS 06/03/2005
TOM BROUGHTON 01/08/1987 *********
DONALD S HOWARD 06/02/1994
GARY RUSSELL 03/29/2011
WAYNE P BROUGHTON 06/02/2004
BRADFORD H HOWE 06/19/2008
AMEY M RYAN 05/11/2007
ABRAHAM BROWN 06/02/1994
CYRIL HOYT JR. 01/24/1991
KERRY G RYAN 04/02/2013
LEONARD H. BROWN 02/10/1992
THEODORE HOYT 05/11/1992
LAURIE J SABATELLE 03/13/2014
ROGER BROWN 02/26/2004
GUY E. HUBBARD 05/11/1992
ROBERT SABATELLE 10/16/2008
THOMAS J. BROWN 09/16/1992
JOSEPH J HUBBARD 04/18/1995
ROBERT SAGER 09/12/2013
FLETCHER BRUSH 11/19/2008
ROBERT HUKE 07/22/1997
ARLA W SAMPSELL 02/23/2016
LAWRENCE BRUSH 01/24/1995
DALE HUNT 03/16/2017
GEORGE B. SAUL II 11/21/1997
ALAN BUCHANAN 03/20/2009
DONALD HUNT 05/19/2011
BRUCE SAVERY 03/23/2009
TED BUCHNER 01/30/1998
HARRY E HUNT 11/12/2009
JULIAN SBARDELLA 09/16/1997
DAVID BUCK 03/19/2004
MELVIN A ISRAEL 02/17/1997
HENRY SCHEIER 04/20/2005
KARLEN BURGBACHER 07/15/2008
THOMAS J JACKMAN 04/27/2007
JEFFREY A SCHROEDER 05/02/2012
ANITA BURKE 06/09/2007
ELMONT E. JACKSON 05/13/1997
PATRICIA A SCHROEDER 05/19/2011
JOHN D BURKE 04/24/1993
TERRY L JACKSON-WELCH 12/6/2017
ROBERT D SCOTT 05/21/2013
ROBERT A BURKE 03/18/1999
CHRISTINA A JAMIESON 04/25/2008
TOM D SCOTT 05/09/2007
WILLIAM BURNETT 04/16/2008
M HAYDEN JANES 04/05/2002
WALTER H SCOTT 04/04/2000
BRUCE F BUSHEY 04/07/2006
EDWARD JANEWAY 11/07/2011
GORDON H. SEARLES 04/24/1993
CHERYL BUSHEY 05/13/2010
RICHARD JAROS 04/07/2006
RITA SEARLES 03/31/1999
DEBRA A BUSHEY 04/07/2006
BARBARA A JEWETT 05/02/2012
EDWARD B SEATON 01/04/1994
JAMES K BUSHEY 04/06/1995
RANDY ALLEN JEWETT 04/15/1999
ALBERT W SEVERY 05/15/2014
STEVEN BUSHEY 02/12/2009
PHILIP JILLSON 02/15/1994
DAVID SEWARD 05/12/1994
MICHAEL CABRAL 04/07/2010
JOHN JOHNSON 04/02/2003
MARILYNN M SEWARD 05/12/1997
STACY CADORETTE 03/06/2017
MARK E JOHNSON 06/03/2005
HARRISON B SHANGRAW 12/30/1998
ALBERT CAIAZZA 06/29/1987
MERRILL E JOHNSON 05/17/2001 *
JOSEPH P SHEEHAN 04/03/2007
JOSEPH B CALCAGNI 06/03/2005
OSCAR V JOHNSON JR. 06/25/1991
VIRGINIA W. SHERIDAN 02/22/1996
FLORENCE A CAMERON 04/07/2006
PATRICIA JOHNSTON-MCWILLIAMS 01/28/2011
ARTHUR M SILLMAN 05/01/1998
DAVID J CAMPBELL 04/02/2013
ALFRED JONES 10/24/2007
LARRY SIMINO 01/25/1991
GARY CARDEN 03/21/2013
ARTHUR JONES 06/16/2011
MEL SIMMONS 04/07/2010
CLEMENT R CARDINAL 04/24/1993 *
ELWIN L. JONES 08/02/1991
HENRY SIMPATICO 06/03/2005
TISH CARDINAL 03/23/2009
REGINALD H JONES 05/24/2001 ****
JULIE A SIMPSON 04/07/2010
ROBERT A CARON 01/16/1991
ROBERT CAMERON JONES 04/02/2013
STEVEN C SIMPSON 04/16/2008
TIMOTHY J CARY 06/03/2005
SHERRYLEE G JUAIRE 05/07/2008
ALEM B SMITH 02/07/1995
EUGENE L. CASLANI 03/22/1990
LESTER JUDD 03/09/1990
CAROLYN H SMITH 03/06/2017
ALBERT CAVOTO 02/21/1994
LUTZ KAELBER 05/10/2005 *
D. WESLEY SMITH JR. 11/09/2012
JOSEPH CHARBONNEAU 01/15/1997
DENNIS N KANE 06/07/2001
EDWARD SMITH 04/18/1994
JOSEPH H CHARBONNEAU 06/05/2007
GEORGE KANE 01/24/1991
EDWARD SMITH 06/11/1999
CLAUDE R CHARRON 03/26/1994
ROBERT KARG 05/23/2001
GORDON SMITH 06/29/1994
LEONARD V CHARRON 11/22/2005
DAN J KENNELLY 11/09/2012
HARVEY T. SMITH 04/26/2017
CHARLES CHATFIELD 05/03/2005
ROBERT KEOUGH 03/26/1990
JEFFREY T SMITH 02/23/2016
MARYLOU CHATFIELD 05/03/2005
DONALD J KERNAN 03/18/1998
KERM SMITH 03/13/2003
RON L CHILDERS JR. 03/29/2011
MARY E KERNER 04/03/2007
VIRGIL F SMITH 03/28/1991
EDWIN S CHILDS 11/02/1998
JOHN KERR 06/06/2002
RICHARD A. SNELLING 04/24/1992
JOYCE CHILDS 11/17/2009
CHESTER KETCHAM 04/05/1995
DEMO SOFRONAS 04/22/2006
RACHAEL CLAFFEY 04/28/2009
LYNDE KIMBALL 02/15/1994
LARRY SOLSAA 04/29/2008
HOMER W CLARK 10/20/1995
RICHARD A KING 04/22/2003
EDWARD J SOSSI 04/22/2014
RANDY CLARK 05/02/2012
STEVEN KIPP 02/01/2001
JAMES SOUTHWORTH 01/07/2004
GARY J CLAY 11/15/1994
GREGORY L KNAPP 02/21/1994
MERRY E SOUZA 04/02/1997 *
MELVIN COBURN 02/10/1993
LEROY CARL KNAPP 09/16/1997
PAUL SOUZA 04/03/2007
SUSAN COBURN 12/16/1994
ELMER KOCH 07/13/1995
RICHARD SOUZA 03/19/2004
DEREK COHEN 03/26/2009
LEN KOTLER 12/16/2008
HERBERT CLYDE SPAULDING 03/17/1997
E. JAY COLCORD 02/09/1990
JIM KRESS 04/07/2010
JOSEPH SPECHT 12/16/2016
CHARLES S COLE 06/30/2007
CONNIE LA PLUME 06/03/2005 *
JOHN E SPRAGUE 05/17/1995
LINDA COLE 04/28/2009
YVAN LA PLUME 04/02/2003
CONSTANCE ST. GEORGE 03/29/2011
JEANETTE DOLORES COLE-ROWE 04/05/2002
JEANNE C. LA ROCHE 03/20/2009
WILFRED ST GEORGE 02/04/2002
HENRY W COLEY 04/02/1997
ODILLON ODY LA ROCHE 04/03/2001
BERTRAND ST PIERRE 06/06/2008
RAY W COLLINS JR. 11/21/1997
JAMES S LABERGE 05/11/2007
FERNAUD ST PIERRE 04/17/2012
RIZIERI COMAI 05/06/2003
RICHARD A LABERGE 06/06/2011
JERRY M STEARNS 03/06/2017
SHEILA A COMAR 03/19/2013
ROBERT W LABERGE 10/15/2002
MELVIN STEARNS 04/05/1995
JAMES CONDICT 05/10/1996
ADRIAN LANE 01/07/1992
BRIAN STECKLEY 01/26/1993
ERIN M CONNORS 05/03/2010
DONALD LANE 04/03/2001
CAROL STEFANY 02/21/1994
LEONARD H. COOK 03/26/1993
LINDA LANE 01/10/2008
RUSSELL J. STEFANY 07/12/1996
JACQUELINE COTE 05/02/2002
MARY ELLEN SAGE LANE 01/24/1991
GAEL STEIN 04/07/2010
JULES COTE 02/23/1996 ***
NORMAN LANGEVIN 05/13/1994
HAROLD STEIN 05/09/2006
PAUL COTE 04/04/2001
EDWARD LANGLOIS 04/02/2013
TIM STETSON 05/15/2014
STEPHEN COULMAN 03/26/2009
PETER P LANOUE 06/13/1996
ALLEN STILLMAN 10/15/2002
CATHY COULOMBE 03/23/2009
ROUVILLE LANOUE 05/26/1994
CHESTER STOCKMAN 12/30/1991
CLAUDE COULOMBE 05/04/2007
LARRY G LARIVEE 04/04/2000
LINWOOD A STODDARD 04/13/2011
RONALD COUNTER 04/05/1995
DAVID LAROSE 04/07/2006 *
RICHARD W STOLARCZYK 04/19/2000 *
LARRY A. COUTERMARSH 03/26/1990
FRANKLIN LARROW 09/28/1994
PAUL STOUGH 03/19/2004
VERNON L CRAWFORD 07/06/1994
KENNETH R LAVALLA 04/03/2001
ROBERT STREBI 10/26/2010
ROBERT A CROSBY 11/23/2009
LOUIS LAVOIE 04/25/2008
DOUGLAS E STUART 04/05/1995
DOUGLAS H CROSSMAN 12/18/2014
JOHN LAWE 10/27/2004
RUTH M STUART 05/17/2011
JOSEPH E CROSSMAN 02/23/1996
STANTON S. LAZARUS 11/21/1997
FRANCES ANN SULLIVAN 06/19/2008
CAROL A CURRIER 03/23/2015
THOMAS LAZETERA, SR. 10/04/1991
RONALD SUNDERLAND 04/26/2017
G LARRY CURRIER 05/05/1993
MARYELLEN LE BLANC 04/23/1999
DONALD SWENOR 05/22/1997
HARRY CURTH 04/02/2013
JOHN F LEAK 04/05/2002
FRANKLIN K TAGGART 03/19/2004
BRUCE R CURTIS 04/10/2009
TRAVIS G. LEBEL 02/23/2016
GEORGE L TAGGART 09/16/1997
ROBERT CYR 04/05/1995
BYRON C. LENNOX 12/05/1985
BEA TALBOT 03/21/2013
EMIL CZERWINSKI 03/27/1995
ROBERT LENNOX 05/15/1995
JOSEPH TALBOT 04/04/2000
ROSEMARY CZERWINSKI 04/05/2002
ANNE LEONELLI 09/27/2006
JOHN TALLMAN 10/15/2008
YVES DAIGLE 06/07/2001
MATTHEW LEONELLI 03/01/2004
TAMME J TARAN 05/09/2007
ERLAND A DANFORTH JR. 04/03/2007
GEORGE W LEWIS 12/22/1994
EVEREST TATKO 05/09/2007
ARTHUR J. DASSATTI 04/15/1994
LARRY A LIMOGE 10/13/1999
MARK A TATRO 04/02/2013
WILLIAM BOYD DAVIES 02/01/2001
ROBERT J. LINDEMANN 04/04/2000
LOREEN TEER 04/02/2013
JAMES D'AVIGNON SR. 04/05/1995
WILLIAM L LINKER 03/09/2011
CARMELLE J TERBORGH 05/04/2004
ANDREW J DAVIS 04/05/2002 *
JACQUELINE LITTS 02/01/2012
ALFRED F TESSIER 04/13/2011
RICK DAVIS 02/16/2004
CHARLES J. LIVENDALE 06/27/2017
GEORGE P TETREAULT 03/18/1999
CAROLYN S. DE FRANCESCO 04/03/1995
MICHAEL LIVINGSTON 03/21/2001
MARY G TEWARSON 05/17/2006
HARRY C DEDELL 05/23/2001
WILMOND J LOBDELL 05/23/1988
RICHARD T THEKEN SR. 09/12/2013
GARY M. DEGASTA 09/16/2016
MAURICE E. LOGAN 04/04/1995
ELIAS T THOMAS 05/09/2003 *
MARK L DELISLE 06/06/2011
SILAS LOOMIS 06/03/2005
JAMES E THOMAS 03/25/1994
DAVID DELUCIA 10/02/2015
MAURICE S LUMBRA 04/16/2008
KERRI L. THOMAS 04/29/2015
MARY DENIO 01/28/2011
KEVIN R LYNCH 12/18/2014
TED THOMAS JR. 04/03/2007
WADE DENIO 04/03/2014
SCOTT A LYNK 03/23/2009
EARL THOMPSON 03/10/2003
BENJAMIN DEPPMAN 05/11/2007
DENNY LYSTER 05/12/2008 *
WILLIAM L THOMPSON 02/23/2016
MARCELLE L DERBY 03/02/1995
DANIEL C MACLURE 04/02/2003
JAMES TODD 12/04/1996
RICHARD G DERBY 06/08/1993
BETSY A MAGEE 04/26/2004 *
JOSEPH A. TOLPA, JR. 06/08/1993
ROGER DESABRAIS 04/05/1995
PETER MALLETT 07/21/2009
PAUL R TOMASINI 06/14/2001
ROGER J. DESABRAIS JR. 11/14/2012
NORMAN MARCHEGIANI 11/08/2007
DAVID P TRUEMAN 02/21/2007
MAURICE DESAUTELS 11/09/2012
MARIO MARCOUX 03/19/2004
KENNETH M TUCKER 03/18/1998 ***
ALBERT DESROCHERS 04/08/2010
THOMAS J MARONI 04/26/1999
PAUL R. VACHON 03/06/2017
LILLIAN DESSO 05/14/1996
MERRITT 'BUS' MARS 09/19/1996
ALAN C VAILLANCOURT 04/08/2010
BOB DEVENDISH 12/16/2008
HOWARD W MARTIN 06/29/2012
JAY VAN ARMAN 05/12/2000
RITA G DEVINE 04/25/2001
JUDITH W MARTIN 03/27/2002
JACK VAN HORN 03/25/1994
GERALD DEWITT 05/22/1997
LEWIS MARTIN JR. 04/19/1999
ALAN E. VANDERMINDEN 04/11/1997
STEPHEN A DOHERTY 12/20/1993
MICHAEL E MARTIN 11/06/1997
ROBERT D VANDERMINDEN 05/15/1995
JAMES R DONALDSON 03/29/1999 *
STEPHEN B MARTIN 06/29/2012
GARRET M VANSICLEN 01/25/2013
OLIVE DOUGLAS 03/26/2009
EDGAR H MASKELL 08/11/1994 *
BRUCE LA VIGNE 04/18/1994
DAVID DOW 04/02/2013
LINDA MASTERSON 06/19/2017
DAVID VAN VLECK 03/21/2001
RICHARD B DOWLEY 05/23/2001
GREGORY C MAURER 04/16/2008
TOMMY J WALZ 05/02/2012
HERBERT J DOWNING 04/07/2010
JEROME H MAYER 05/09/1996
WILLARD H WATSON JR. 05/27/1998
EDWARD J. DOYLE 04/04/1989
BARRY MC DONALD 04/25/2008
PHILIP L H WEAVER 04/28/2017
GASTON DOYON 09/27/2006
RAYMOND MC EACHRON 05/07/1998
BILL WEEKS 04/16/2003
RODNEY DROWN 09/24/2007
WILLIAM J MC HUGH 10/13/1999
DONALD A WELCH 12/6/2017
FRANK E DUDLA 05/23/1988
ALLEN L MC MURPHY 07/20/1994
PETER J WELCH 04/27/2007
CLAYTON DUMAS 03/30/1990
PATRICK J MC WILLIAMS 04/05/2002
SCOTT T WELCH 02/23/2016
JACKIE DUTIL 04/03/2007
BRION F MCMULLAN 09/07/2017
HUGH WELD 05/19/1994
RICK DUTIL 10/15/1997 *
LINDA MCNULTY 03/19/2007
MANLEY WETHERBEE 06/07/2001
ALEDA DUTTON 04/22/2014
THOMAS MEHURON 05/26/1994
PHILLIP H WHEELER JR. 06/19/1991
LINDA L EASTMAN 04/02/2013
ANTHONY R MENTO 05/08/1998
LLOYD A WHIPPLE 04/16/2008
ROBERT W EASTMAN 08/26/1992
SERGE PAUL MERCURE 07/25/2017
CHERYL WHITE 11/09/2012
DAVID B EATON 03/23/2009
WILLIAM R MERRILL 11/29/2006
CHARLES F WHITING 05/08/2012
WILLIAM EDMUNDS 02/25/2009
FELTON MICHAEL 11/17/1993
JOHN WHITING 05/09/1995
JEAN S. EGGLESTON 07/15/2008
KENNETH E MILLAY 02/01/1994 *
ARTHUR WHITMAN 04/02/2012
SALLY ELKINS 11/03/2005 *
BRUCE MILO 09/16/1997
KATHY WHITMAN 03/21/2013
LINDA ELLINGSWORTH 02/14/2014
CRAIG MINER 04/07/2010
ROBERT WHITMAN 11/09/2012
KEITH ELLIS 12/16/2008
MARIE G. MINER 04/22/2014
EARL 'POP' WHITNEY 06/05/1989
KENNETH R ELLIS 03/25/1994 *
NICK MONTE 01/06/1992
ROBERT W WILCOX 04/04/2000
RICHARD W ELLIS 07/08/2003
JOHN D MOORE 04/03/2001
SALLY J WILDER 03/23/2009
ROGER G ELLIS 02/11/1999
SUSAN MOORE 06/30/2007
STEPHEN WILLBANKS 04/05/2002
KENNETH P EMERY 04/16/2008
ROGER J. MORIN 04/24/1993
DAVID WILLEY 04/21/2008
WILLIAM T. EMERY 02/27/1992
ROGER A MORIN 04/26/1996
LYNN WILLEY 03/06/2017
ERNEST D EMMERSON 05/08/1991
KAREN S MORRIS 03/02/1995
CATHERINE WILLIAMS 05/26/1998
JAMES R ERICKSON 04/07/2010
MARY MORRISSEY 03/06/2017
GEORGE B. WILLIAMS 05/26/1998
SYLVIA EUGAIR 04/04/2000
CHAUNCEY B MORSE JR. 04/03/2001
GEORGE WILLIAMS 05/02/2012
ROBERT EVENS 07/15/2008
NICHOLAS A MORWOOD 04/26/1994
NORMAN W WILLIAMS JR. 06/03/2005
GENE FARRAR 03/27/1995
EARL MOSHER 04/30/1987
STEVE WILLIAMS 05/10/1996
DORIS FARRAR-ALDERMAN 04/07/2006
MAUREEN MOSHER 04/03/2014
ASA WILSON JR. 06/25/2008
RICHARD FELLENZ 04/13/2011
STEVE MOSHER 04/03/2014
JOSEPH V WILSON 04/30/2012
FABIAN FERLAND 06/03/2005
RUSSELL MOULTON SR 04/13/1995
FRED WOLFE 04/28/2009
RITA M FERLAND 04/03/2007
SYLVIA E MOULTON 04/19/1994
JAMES WOODS 10/19/2010
EDWARD FERRIS 04/03/2007
MARION MUNSELL 03/23/2009
GREGORY WRY 10/03/1994 *
MICHAEL FISHER 04/03/2007
RICHARD E MUNSELL 03/26/1994 *
CHRISTINA YOUNG 04/07/1994
CATHERINE E. FITZPATRICK 11/19/1996
MICHAEL J. MUNSON 10/21/1999
JAMES YOUNG 05/02/1996
ROBERT FLETCHER 12/02/1997
RICHARD MURDOCK 04/14/2011
JOSEPH YOUNG 06/06/2001
JEFFREY FONTAINE 03/23/2009
BRUCE MURTAUGH 02/23/2016
MERLE YOUNG SR. 03/06/2017
LOIS A FONTAINE 04/23/2010
GILBERT MYERS 02/06/1995
ROBERT P YOUNG 03/20/1995
KRISTEN CORY FOOTE 05/22/1997
LARRY MYOTT 03/19/2004
LAMBERT ZOLLER 12/10/1993
HELENA FORTIER 08/08/1995
NANCY NEEDHAM 04/26/1991
MAURICE L FORTIER 04/07/2003
ANTHONY NERI 11/21/1997