Details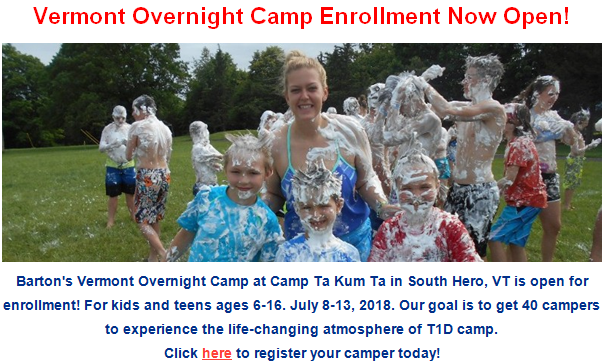 Heartland Lions Send Youth to Diabetes Camp
By Lion Carol Greene - The Heartland Lions Club received a request from a family in Sharon, Vermont for financial assistance to send their 7 year old son with severe diabetes to summer camp. The cost was $1,260.00. I knew there had to be a way to help this family. With diabetes he was not able to attend a regular summer camp. With the help of VLC, Heartland Lions Club and his family we have a happy 7 year old boy headed for Barton's Vermont Overnight Diabetes Camp in South Hero, Vermont. What a great feeling to be able to say the Lions helped them out. The family was ecstatic with joy and the boy has already started packing for camp. This is why we are Lions, we help when there is a need!
Details
Whitingham-Halifax Lions support for The Gathering Place brings kindness full circle for a Lion and his family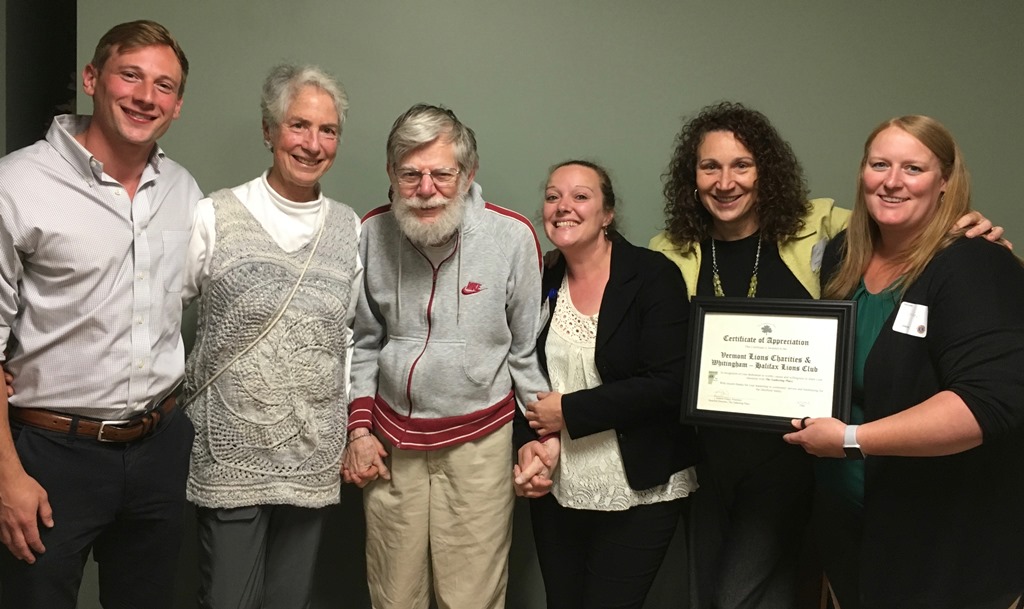 Pictured: Gathering Place Board President Andrew Loney; Karen Hein, Ralph Dell, Gathering Place Site Director Tanya Powling , Gathering Place Executive Director Maggie Lewis and Whitingham-Halifax Lions Club President Jen Betit.
Article by Lion Patience Merriman -
For many years, Ralph Dell was an active member of the Whitingham-Halifax Lions Club. He helped raise funds, walked in parades and participated in meetings. But in 2010, Ralph, a retired pediatrician and public health advocate, was diagnosed with Alzheimer's disease.
Today, thanks in part to support from his Lions Club, Ralph is now a regular client at The Gathering Place's new location in West Dover. On Monday, June 4, the center hosted a special "Thank You" dinner for the Whitingham-Halifax Lions, to acknowledge the Club's financial support for the new facility.
Executive Director Maggie Lewis gave tours of the center and explained the Gathering Place's mission to the Lions. She also presented outgoing Lions president Jen Betit with a certificate of appreciation.
"What goes around comes around," said Lion Mark Hanna. "Our club made a donation to help The Gathering Place come to Dover, and now The Gathering Place is helping Ralph and other local seniors live with joy and dignity right here in the community."
According to Ralph's wife, Karen Hein, Ralph enjoyed going to the Gathering Place in Brattleboro. "But travel time to the Dover location is half what it was to go over the mountain to Brattleboro. Seeing the MOOver bus coming up our driveway makes us both smile— it means that Ralph's off for a great day of activities with participants and staff who really care, and I can do the zillion things I need and want to do as well."
The new Gathering Place location, in the old First Wok building on Route 100 in West Dover, has been extensively renovated and is now a bright, welcoming and fully-equipped facility offering a comprehensive range of programs and services for adults – everything from healthy meals and activities programs to personal grooming assistance.
Karen Hein notes that caregivers benefit just as much as clients from the services The Gathering Pl ace provides. "Caregiving is such a big responsibility," she explains. "The Gathering Place allows both of us to live and love fully—knowing that Ralph is surrounded by kind, knowledgeable, professional caregivers during the week days, giving me time to take good care of our household ... and take care of myself as well!"
Details
Whitingham-Halifax Lions Club honored at D45 Convention
After a highly successful membership drive on March 19th, the Whitingham-Halifax Lions welcomed 21 new members to the club, nearly doubling in size as a result. "Our new Lions are men and women with a diverse range of ages and backgrounds," said Lion Alan Stewart of Wilmington, who led the membership effort. "We are all very excited to have this incredible influx of energy and talent."
On May 6, the Club was formally honored by the Vermont Lions leadership at the District's spring convention at the Grand Summit Hotel at Mt. Snow for bringing in more new members than any other club in the state.
In addition to the towns of Whitingham and Halifax, the Lions Club welcomes members from local towns that do not currently have clubs, including Wilmington, Dover and Searsburg. The Club is active in community service and fundraising for the Deerfield Valley Food Pantry, The Gathering Place, vision screening in local schools and other local charities.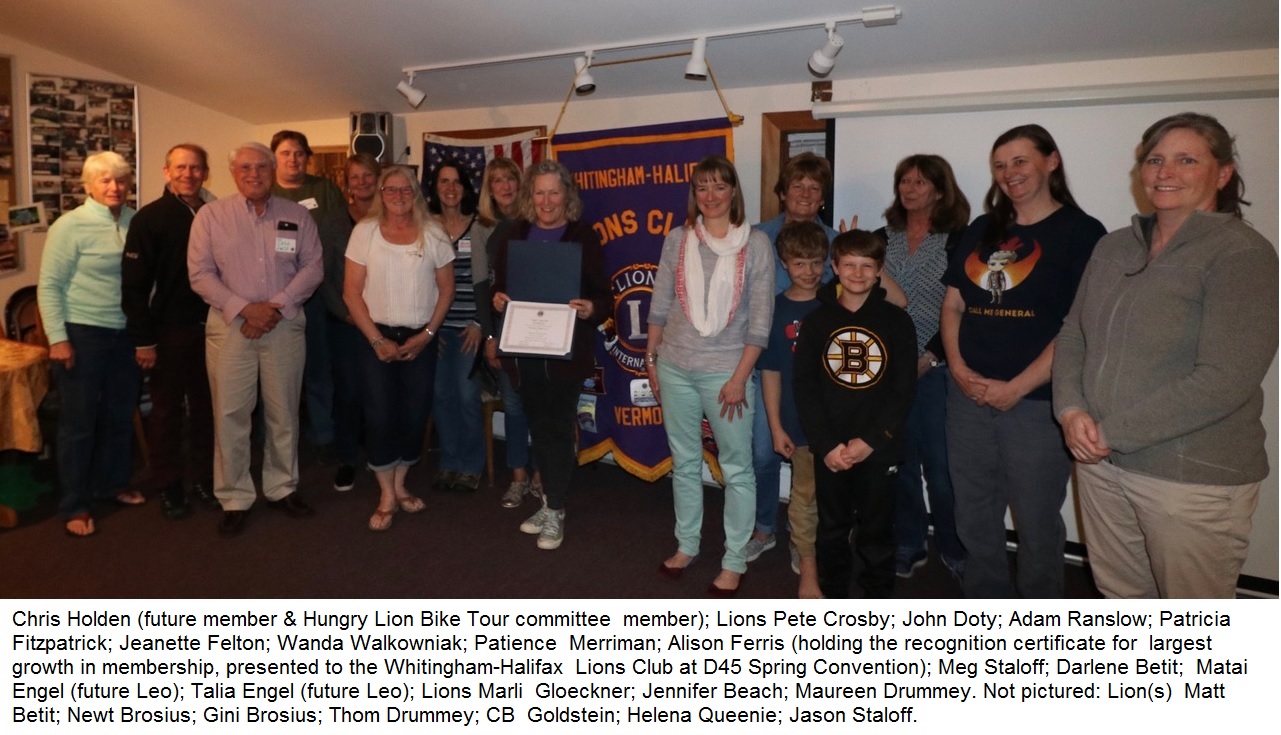 Webmaster's Note: Go to the Membership section of the Club Toolbox and check out the awesome invitation that was used to announce their membership drive.
Details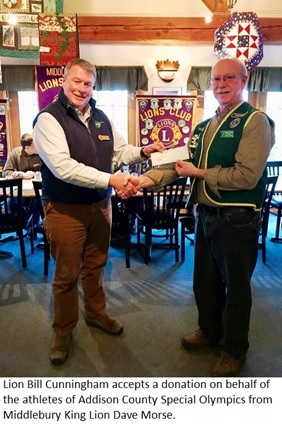 Many thanks from Special Olympics
On behalf of the athletes of Addison County Special Olympics, we thank the Middlebury Lions Club for their generous donation which will help to provide opportunity for 65 athletes to demonstrate their abilities. Special Olympics Vermont offers year round sports training and competition opportunities in 13 Olympic-type sports. Through sports training and competition the athletes develop physical skills and healthy life habits, but most important have fun. Friendships made and the sportsmanship demonstrated, brings smiles to the athletes, the volunteers, the coaches, and the parents. As every Special Olympian knows; "Let Me Win, But if I Cannot Win, Let Me Be Brave in the Attempt.
Be sure to look at the volunteer opportunities available with Vermont Special Olympics. The "Opening Eyes program" of the Vermont Special Olympics is again looking for Lions volunteers. Check out their invitation here.