Details

2017 Wreath Raffle Winner!
Carrie Mol of Brandon is the 2017 winner of the Brandon-Forestdale Lions Club Wreath Raffle. Her winning entry was drawn Tuesday night, December 19, at the club annual Christmas dinner at the Neshobe Golf Club.
Mol is pictured holding the wreath as presented to her by Lion Shirley Smela.
The Wreath Raffle raised over $1100 in ticket sales with all proceeds used to fund local community programs administered by the Brandon-Forestdale Lions Club.
Details
Honoring 40 Years of Community Service
Brandon-Forestdale Lions Club honored charter club member Jeff Smith of Brandon for his service to the Lions and the Brandon-Forest Dale community. The award was presented at their December 19th dinner meeting by Past International Director (PID) Tom Broughton who listed Jeff's accomplishments to an appreciative audience. In the photo Jeff is shown with PID Broughton and Brandon-Forest Dale Lions Club President Patti Reynolds.
Details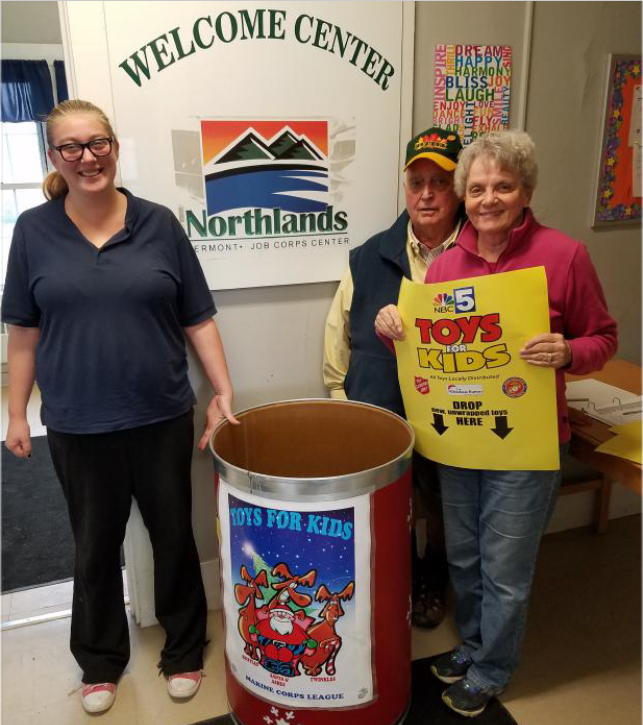 Toys for Vermont Kids
Collection barrels are out, and toys are being donated, says Lions Committee Co-Chair Sue Hays. The donated toys will be distributed through local food shelves and will make Christmas brighter for families in Vergennes and Bristol communities.
This year the Vergennes Lions are partnering with the Northland Jobs Corps. Job Corps students are assisting with collecting, sorting and distribution of toys. Job Corps is also providing a room on their campus to function as a central collection and distribution point. Co-Chairs Lion Roger and Sue Hays (pictured here with Job Corps student Jubilee Thorburn) are happy to have the new easily accessible area and many helping hands.
Details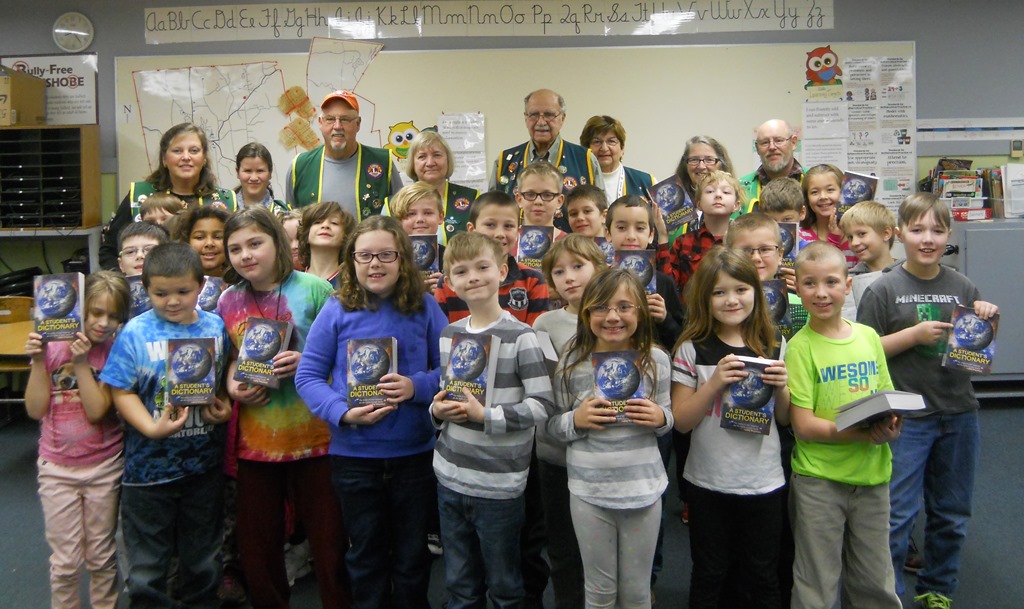 Third graders from Neshobe Elementary School received their annual Student's Dictionary from the Brandon/Forest Dale Lions Club on December 5th. Pictured with the third graders are Club members Mary Shields, Stacy Shields, Bruce Blanch, Shirley Smela, Burt Reynolds, King Lion Patti Reynolds, Evie Reed, and Harold Reed.