Details

2020 Lions International Convention Cancelled
The Board of Directors has voted to cancel the 2020 Lions International Convention due to concerns about the coronavirus (COVID-19). This means that the next International Convention will be held in 2021 in Montreal, Canada.
Details
Lions on Burlington Public Television
An interview with Ken Emery, District Governor of Lion's Club of Vermont highlighting the important community service work of Vermont Lions.
=
Details
We Serve AND Do Good Deeds!
- by Lion Michael Cabral
Colchester Lions Club joined with our Chartered Colchester Boy Scout Troop 601 on March 4 at a combined joint Dinner Meeting. Our objective was to have the Scouts, leaders,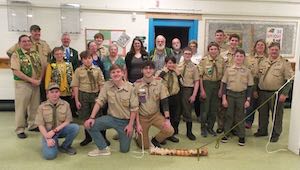 parents and Lions learn more about each other's organization and how we complement each other - Scout's mantra of 'Do Good Deeds' and Lion's Motto 'We Serve' illustrate that so well.

We melded our opening with a brief Greeting to Lions, Scouts and families followed by the Scout Troop forming and posting of the Colors, Pledge of Allegiance, Scout Oath by the Scouts and the Lions provided the Invocation and a Lions Toast. Then, pizza, salad and dessert!
Details
2020 Spring Convention News!
Watch for a special edition of The Communiqué featuring the
65TH ANNUAL VERMONT LIONS CONVENTION
May 1,2 and 3, 2020 at the Fireside Inn in West Lebanon, New Hampshire!
You can download the Package Registration form, the Meals Only form, as well as review the complete Schedule of Events.
There's even a slide show of what to expect!
Send in your reservation today and we look forward to seeing you in May at the 2020 Spring Convention.