Details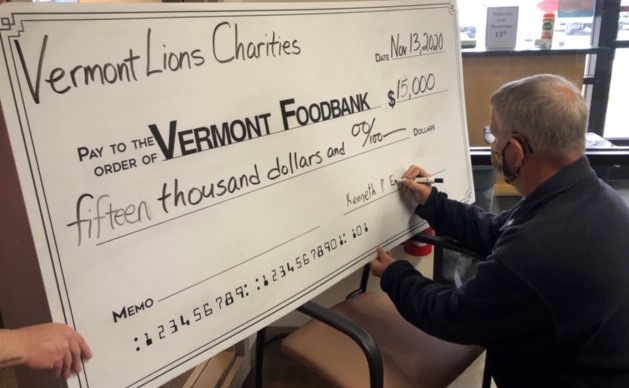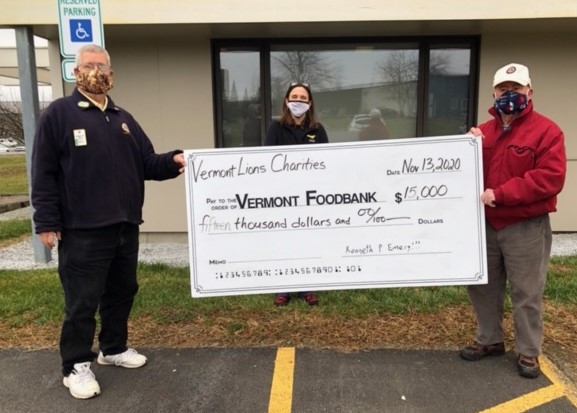 On Friday morning, November 13, 2020, on behalf of Vermont Lions Charities, PDG Ken Emery, as Past President of Vermont Lions Charities, and Lion Rick Theken, former Zone 4 chair and member of the Barre Lions Club, presented another $5,000 check to Allison Mindel, of the Vermont Foodbank. This has made the total donation $15,000 since March/April, about the time the coronavirus pandemic crisis started.
PDG Ken is seen signing and, with Lion Rick, holding, a copy of a 'check' representing the total donated to Vermont Lions Charities.
Details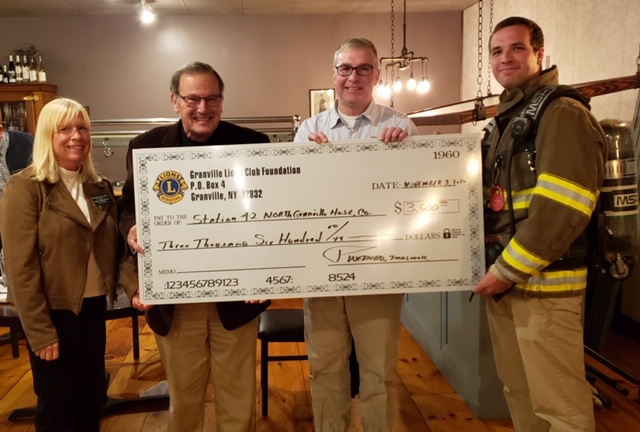 At their Nov. 3 dinner meeting, the Granville Lions Club hosted members of the North Granville Hose Company. The firefighters demonstrated the latest in technical equipment used in the fire service, and discussed current important issues in firefighting. The Lions Club invited the firefighters because they had learned that the fire company was raising funds to purchase new air packs for their members, and that they were $3,600 short of the money needed. Members of the Lions Club voted to donate the needed $3,600 and presented the fire company with a check at the meeting. Pictured are Linda Ellingsworth, president of the Granville Lions Club; Phil Weaver, treasurer of the Granville Lions Club Foundation; Scott McCullen, chief of the North Granville Hose Company; and Tim Tipton, interior firefighter with the fire company.
Details
Jericho-Underhill Lions Raffle
The top prize is a hand quilted blanket and there are many more prizes.
Tickets are $1/each or 6 for $5. Drawing on December 5th, 2020. Contact any J-U Lion or email This email address is being protected from spambots. You need JavaScript enabled to view it..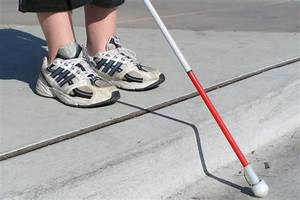 Details
The RED STRIPE
Oct 15 was White Cane Safety Day.
In 1930 the President of the Peoria Ill Lions Club added a Red Stripe to the white cane that was currently in use, thereby increasing the visibility of a blind pedestrian to traffic.They also produced and gave away canes. The cane continued to be developed and laws were enacted in every state for the safety of the blind individual. For more information go to LCI White Cane Safety Day. The White Cane