Details

Published: 21 November 2017

21 November 2017
Essex Juntion King Lion Dianne Brochu, Lion Beth Abustan, and PDG Betsy MaGee were interviewed by Fox 44. Watch the interview here... It's all about sight.
Essex Junction, VT (article courtsey of Fox 44) -
The Lions Club of Essex Junction prides itself on community involvement, which spans seven decades. While the group is know for raising money, and collecting food for those in need. You may not know about a certain collection of eye glasses.
Details

Published: 21 November 2017

21 November 2017
Norwich Lions form Visioneers team to screen nearly 700 students in Hartford, White River Jct. and Queechee schools for first time.
Details

Published: 03 November 2017

03 November 2017
Colchester and Essex Jct Lions Clubs offered free community vision and diabetes testing on 10/21/17 at the Colchester Community Wellness Fair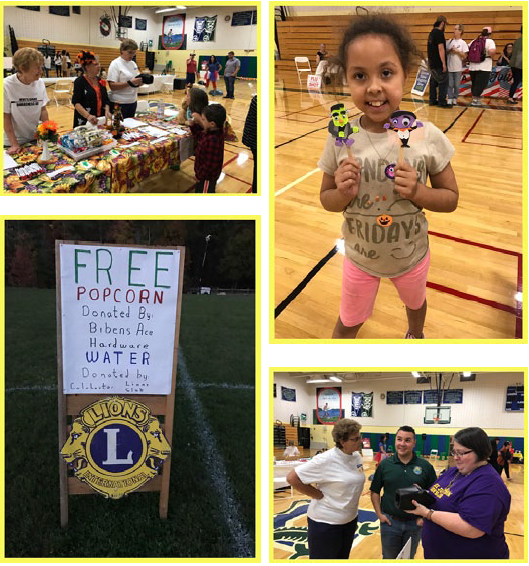 Details

Published: 23 October 2017

23 October 2017
Brandon Forest Dale Lions club members present a check to Mason Wedge and his family to help with his fight against cancer.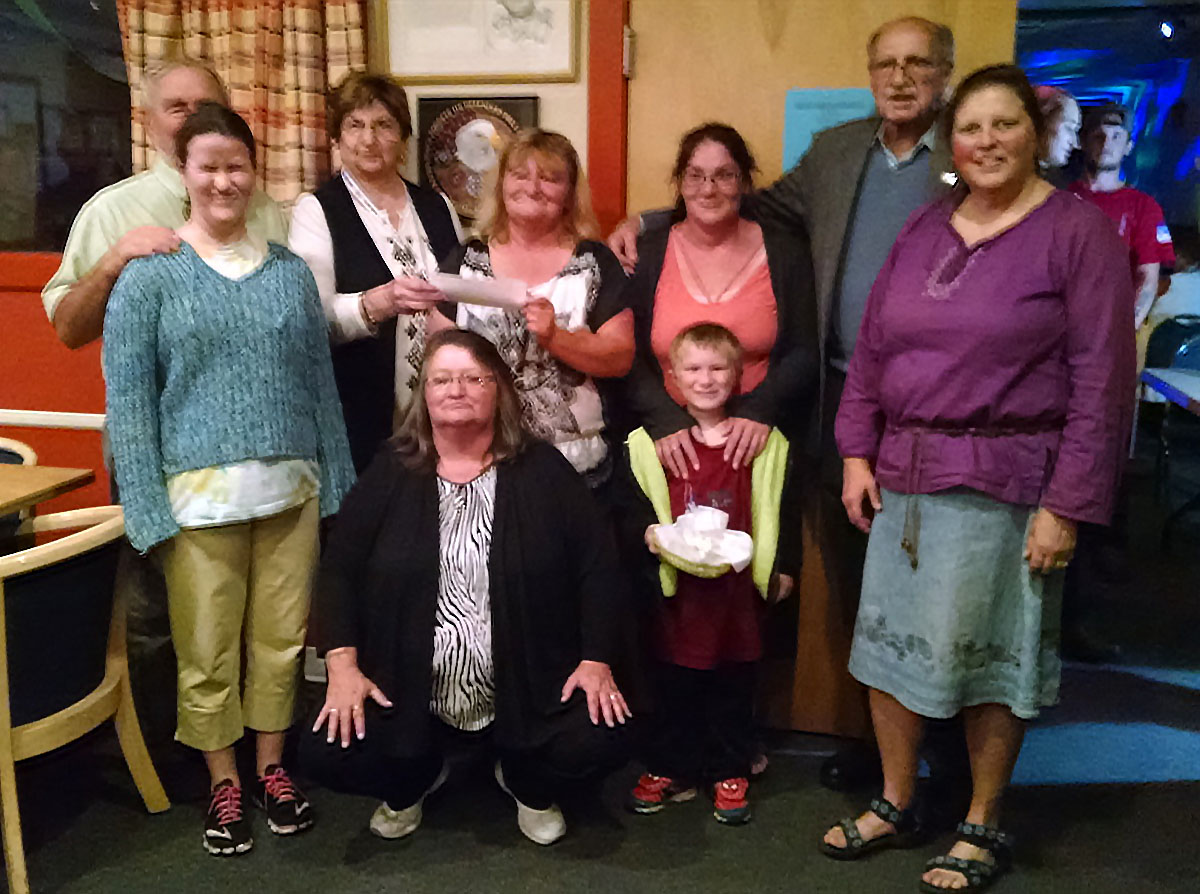 Details

Published: 14 October 2017

14 October 2017

Oktoberfest Fun with Norshaft Lions
It was Oktoberfest today in Bennington hosted by the Norshaft Lions. What a blast for the whole family! Colgate Park was beautiful and the fall foliage on the mountains, with the Bennington Battle Monument in the background, was absolutely stunning. Norshaft Lions completely transformed the venue into a family friendly playground for all ages. Upon entering the park there were over 40 vendors displaying all manner of Vermont crafts. Kids were enjoying face and pumpkin painting, hula hoop, wagon rides, Baggo, and football toss. Families and kids were everywhere, enjoying the day and in particular the aircraft flybys as they dropped stuffed lions onto the raffle field to see who won. Then a lederhosen clad parachutist jumped form the aircraft and nailed his landing in the center of the field. Of course there was plenty of excellent German food, music, dancing, and even beer. Hats off to Oktoberfest chair Lion Bert Savoia and the Norshaft Lions Club. You folks know how to bring out the community for fun!

Details

Published: 10 October 2017

10 October 2017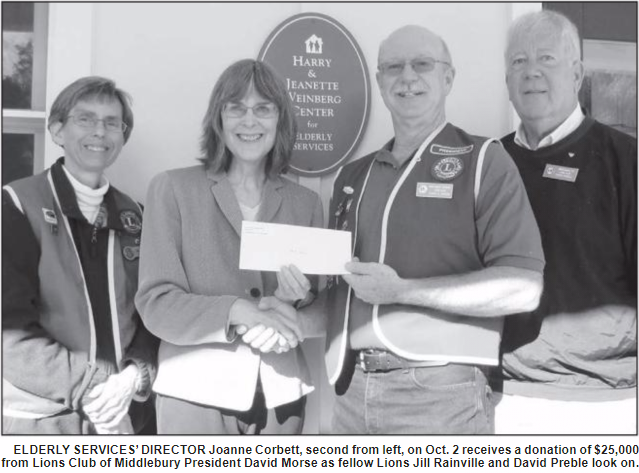 Lions donate $25K to Elderly Services
(Story by Addison Independent) -The Lions Club of Middlebury on Oct 2 presented Elderly Services Inc. with a $25,000 check dedicated to completion of the Eldercare Excellence Major Gifts Campaign of 2015-2017.
Club President Dave Morse presented the check to ESI Executive Director Joanne Corbett, recalling that, "We pledged this gift to Elderly Services back in 2015 when they embarked on a $1 million capital campaign and said we would donate $25,000 when they raised the balance of their $1 million. That brings us to today and our wish to congratulate them on a wonderful success."
Elderly Services operates Project Independence Adult Day Center six days a week at its Exchange Street headquarters in Middlebury. The agency also offers lifelong learning classes for older adults through their ESI College Program. ESI's Geriatric Social Work Practice provides counseling and problem solving to elderly people and to their families.
"Our Eldercare Excellence Campaign marked the 35th Anniversary of Elderly Services and the 10th year in our new building," explains Joanne Corbett. "We quietly asked for help from our major donors as we needed special funding to address the upkeep needed for our buildings, our grounds, and our furniture and equipment. Maintaining a beautiful and smoothly functioning facility is critical to our quality of care."
Details

Published: 06 October 2017

06 October 2017
Taking the lead on our fight against cancer
Orleans Lions held a dance on September 9th to raise money for the Mary E Wright Halo Foundation. Orleans Lions raised $1,950.00 that was donated directly to the Foundation. The MEW Halo Foundation is a non-profit organization started in 2011 by Mary Wright's family who recognized a need to assist people who had been diagnosed with cancer. 100% of all donations are used to assist cancer patients in Orleans County. The event was held in Lion Dan Malure's barn in Barton, VT.