Details
Vt Fil-Am Branch Club and Barre Lion's Club Fundraising benefit: "Service Project" selling Christmas Trees.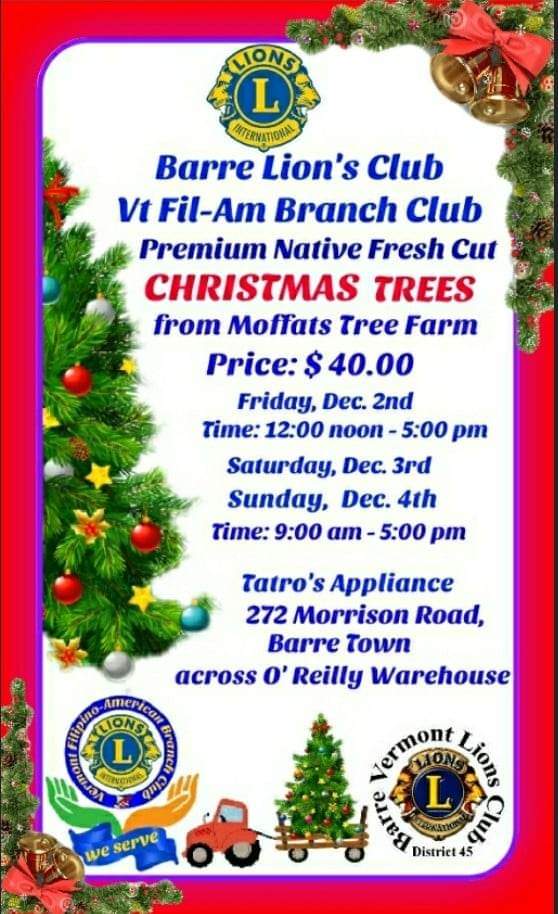 Details
Castleton Lions King Lion Kevin Bronson presents a $500 award to Lion Kim Alexander and the student athletes of Fair Haven Union High School. These students helped the Lions during the club's summer two day auction. The award was given to the Athletic Department of Fair Haven Union High School. The student athlete "runners" are essential to the success of the auction and their help is greatly appreciated. The students were guests of the club for dinner November 7, 2022 at which time the award was presented.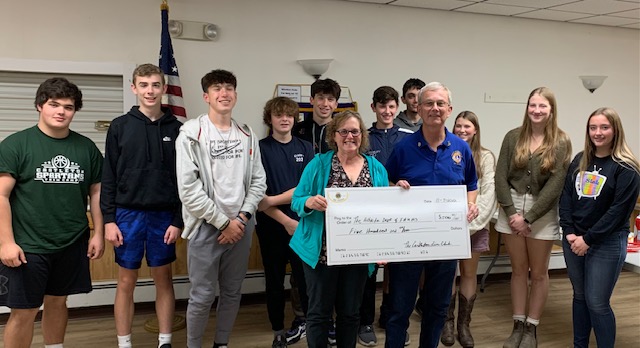 Details
Check out the 2022 Norwich Lions Club on-line silent auction, which runs from 7 am on October 7th to 7 pm on October 16th.
Bidding starts at 50% of retail value. Follow the instructions to register and participate. Previous 32 Auctions participants are good to go! You may pay for items won by credit card or with cash upon pick-up.
The net proceeds go to the Norwich Lions Club Community Grants Program. The 2021 auction raised over $10,000 for our community.
The club thanks the following 100+ businesses and individuals for donating the items on offer in this auction (donors listed in alphabetical order):
110 Grill Evina
Aaron family, Amarjit Rakhra, Andrea's Hair Studio, Applebee's, Ariana's Restaurant
Bag Balm, Bean's Art Store, BEFit , Bekker family, Billings Farm Museum, Blake Hill, Blue Sky Restaurants, Bob's Service Center, Bradford Golf Club
Carpenter and Main, Carter Country Club, Chef Brad's Crazyside, Children's Art Studio, Chippers, Coop Food Stores
Dan & Whit's, Darn Tough Vermont, Dartmouth Athletics, Demosthenes Sofronas, Dirt Cowboy Cafe, Dr. Sam's Eyecare, Dunkin', Dutilles Jewelry Design
E.C. Brown
Farm-Way, Fat Hat Clothing, Fat-face, Fore-U Golf Center, Four Aces Diner
Gardener's Supply, Gilberte Interiors, Gnome Birdhouse Productions
Hanover Truevalue Hardware, Hair Shed, Henry Hohmeyer, Highland Lodge, Hill Opticians, Hubert's of Lebanon
J McLaughlin, Jake's (Car Wash, Laundromat, Market & Deli), James LaMontaigne, Jan's Fairlee Diner, Jasper Murdock's Alehouse
Lake Morey Resort, Lakeside Automotive, Ledyard Bank (Norwich Branch), Lui Lui
Main Street Kitchens, Mascoma Bank, Mascoma Dental, Meeting House Farm, Mike's Store and Deli, Montshire Museum of Science, My Brigadeiro
Northern Nurseries, Norwich Fire Department, Norwich Library, Nugget Theater
Pim's Thai Orchid, Pompanoosuc Mills. Price Chopper
Quality Inn, Quechee. Quechee Pizza Chef
Ramunto's Brick and Brew, Red Kite Candy, Revolution, Richard Neugass, River Roost Brewery
Sandie Anderson, Simon Pierce, Stan Williams, Stan's CBD Oil, Staples, Starbucks in Hanover and Lebanon, Stave Puzzles, Strong Rabbit Design
Terry Boone, The Fourth Place, The Home Depot, The Little Grille, The Nest Kitchen & Café, The Skinny Pancake, Three Tomatoes Trattoria, Tip Top Tire, Town Fair Tire, Town Line Equipment, Tozier's Restaurant, Tractor Supply
Umpleby's Bakery and Café, Upper Valley Food Coop
Valley Flower Company, Vermont Glove, Vermont Organic Solutions, Vermont Teddy Bear Company
Wells Fargo Bank, William A. Smith Auctions, White River Eyecare, White River Touchless Car Wash, Wilson Tire
Yama Young's Restaurant