Details
Fundraiser!!
Horseshoe and Cornhole Tournament
DATE CHANGE
The Heartland Lions Club Horseshoe Tournament for MS. Original date was August 27th at 9:00 with Sunday August 28th the rain date.
The event has been postponed and is now scheduled for Saturday September 24th (Sunday September 25th, rain date.) All other details are the same.
Sponsored by the Heartland Lions club servicing
Royalton, Tunbridge, and Sharon Vermont.
60% of proceeds to benefit the MS association
Tournament begins at 9:00 AM at the Sharon horseshoe pit behind the Sharon Church.
Fees (due before your first game):

Cornhole- $25 per 2-man team
Horseshoes- $35 per 2-man team
There will have a 30-team limit for horseshoes
There will be a 30-team limit for cornhole
All games will have a 30 min time limit to be completed. If 21 is not reached in the time limit then the highest scoring team wins and moves on.
For more information and/or to register, contact Mark Wood at This email address is being protected from spambots. You need JavaScript enabled to view it.
There also will be a concession stand and a 50/50 raffle.
Details
The Granville Lions Club is hosting its first ever "Granville Lions Ciub Invitational Golf Outing" on Saturday, October 15, 2022 at the Lake St. Catherine Country Club. This new event will help support the club's charitable work in our community, including donations to the Pember Library & Museum, Haynes House of Hope, Slate Valley Museum, annual college scholarships for graduating seniors, and many more.
The Granville Lions Club Invitational Golf Outing will be a Four Person Scramble, $300 per team of 4 ($75.00 per player) includes 18 holes with Cart & Lunch. Lunch will include the choice of two entrees. Enclosed please find a Team Registration Form.
Early Registration is encouraged as this outing will be capped at 22 foursomes. Please mail your Registration form and Check to: Lion Philip Weaver, 7565 State Route 149, Granville, New York 12832. Registration will be based on a first come first serve basis, so please register early.
If you should have any questions please call, text or e-mail me at (518) 361-6851, This email address is being protected from spambots. You need JavaScript enabled to view it.. Thank you for your support of the Granville Lions Club. We look forward to seeing you at the outing.
Sincerely,
Phil Weaver, President
Granville Lions Club
Details
The deadline to register for the August cabinet meeting is coming up soon. We need to notify the American Legion in Chester on August 1st of the number attending so they have adequate time to order food. Please email CS Pat Schroeder at
This email address is being protected from spambots. You need JavaScript enabled to view it.
if you plan to attend and she will collect your money at the meeting. Please include
the registration form
.
The featured speaker is LCI Leo Club Advisory Panelist Diana Grise. PDG Diana is from District 23C and will be talking about how to form a Leo Club. I know we have a few clubs interested in forming clubs.
We will also be collecting new books to donate to the community libraries in Springfield and Chester. Their book wishlists can be
downloaded here
.
DG Kathy
Lion Kathleen Dorman
District Governor
Vermont District 45
Details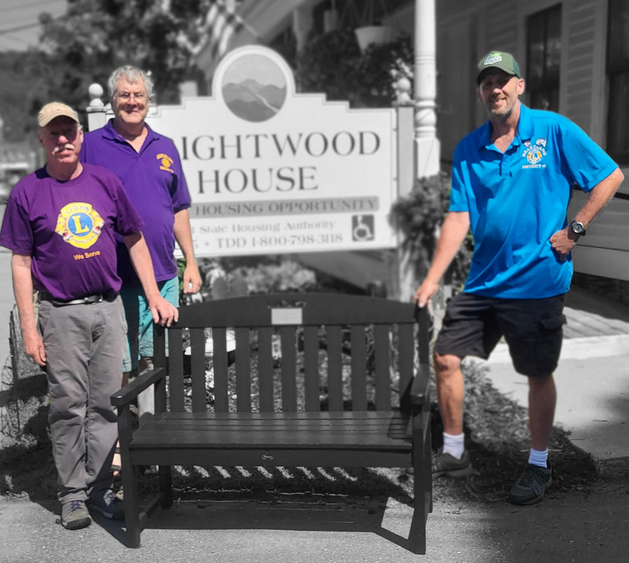 Heartland Lions are still collecting plastic. They have now earned 7 benches so far. PDG Walter Hastings and Lions Mark Wood and Stuart Levasseur are shown here delivering a bench to the Brightwood Home in South Royalton, a housing for the elderly. The Heartland Lions continue to collect plastic for this service project.