Details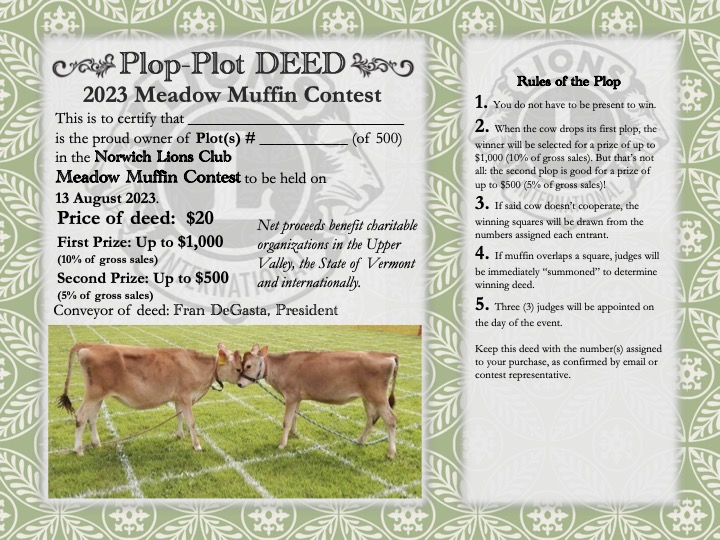 The Norwich Lions Club Meadow Muffins contest is a popular annual tradition, whereby participants "buy" one or more numbered plots of land in a fenced-in area for $20 each, for which an assigned, randomized number matching a corresponding "deed" has been assigned to each plot.
On August 13, some heifers will be brought into an enclosure with the plots laid out in a grid to determine the winner and runner-up by depositing a "meadow muffin" on the squares of two lucky prize recipients!
First Prize: Up to $1000 (10% of gross receipts) -- 1 in 500 (or better) chance of winning.
Second Prize: Up to $500 (5% of gross receipts) -- 1 in 499 (or better) chance of winning
Third Prize: The satisfaction that you contributed to a good cause! (up to 498 in 500 chances)
If you are a winner, you will be notified by email or phone. The order of your purchase, as invoiced by by 32 Auctions, determines which deed you have purchased.
Three impartial judges will be appointed to oversee the contest. In case circumstances prevent a meadow muffin deposit from determining the winners on the appointed date, the judges will draw the winning numbers from among the tickets sold. In case of errors in the sale of the Meadow Muffins, the judges will determine a fair outcome.
The contest raises funds to support community organizations, as described at www.norwichlionsclub.org and summarized, below.
We invite you to participate at: https://www.32auctions.com/MeadowMuffinsContest2023 or by mailing a check to:
Norwich Lions Club
PO Box 854
Norwich, VT 05055-0854
Details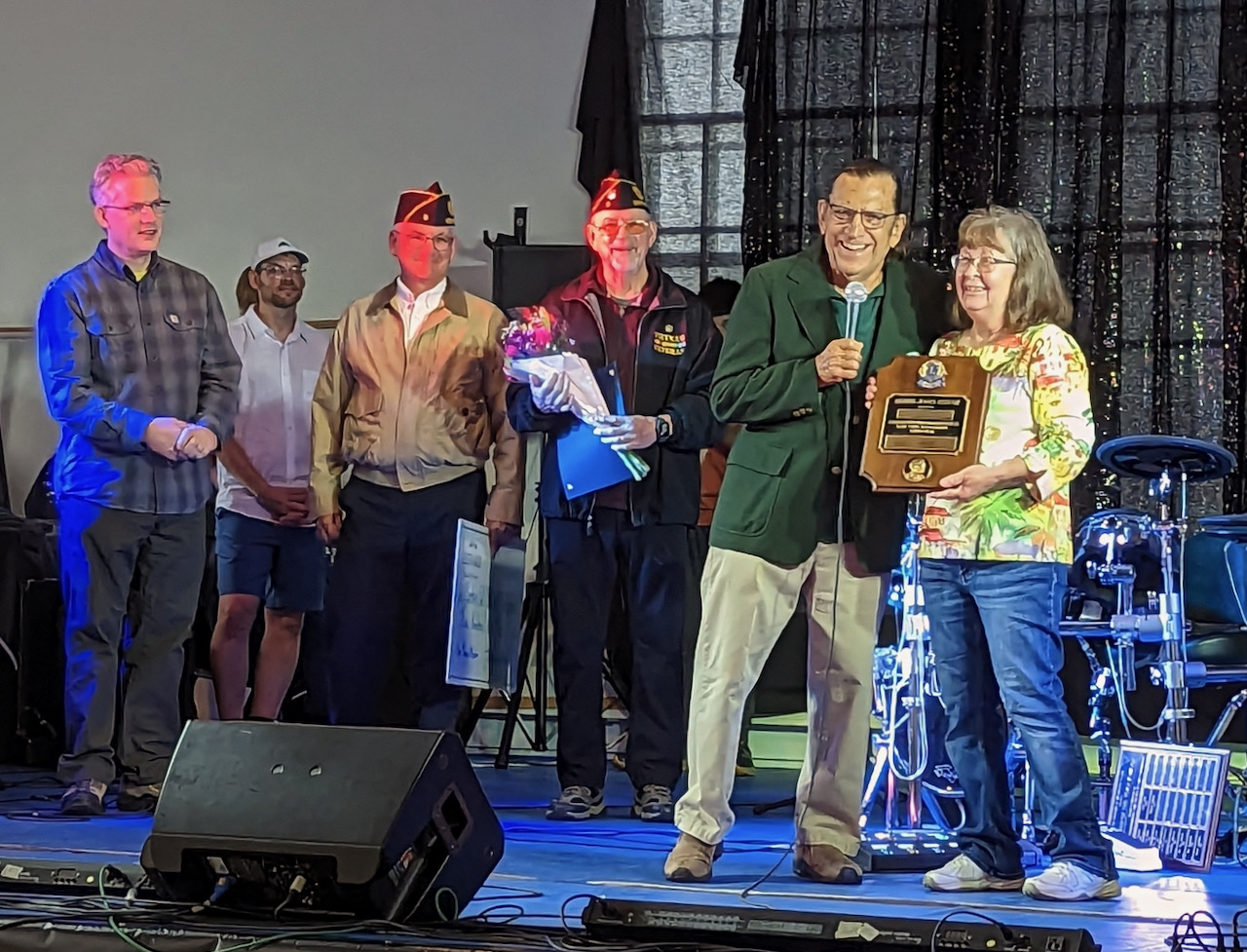 Norwich, June 3, 2023. As part of the Norwich Women's Club recognition of Bonnie Munday, retired Norwich Town Clerk, as citizen of the year, the Norwich Lions Club awarded her membership in the Melvin Jones Fellowship (MJF) for her year-to-year work in promoting the Lions Club Memory Tree, a December fundraising campaign to benefit the Upper Valley Haven—a non-profit, private organization that serves people struggling with poverty by providing food, shelter, education, service coordination, and other support.
The MJF is the backbone of the Lions Clubs International Foundation (LCIF), and is awarded in recognition of major donations to the foundation or to people who have recently made a notable contribution to the club's activities. It's a tremendous contribution to humanity and to the legacy of our founder, Melvin Jones.
Details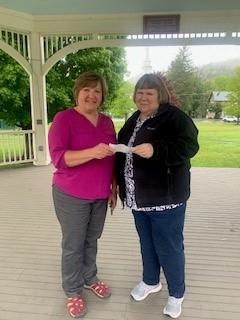 Heartland Lions IPDG Carol Greene presents Holly Williams, Yellowstone Trip Coordinator, a check for $500 toward expenses for students in grades 8 & 9 from White River Valley Schools to attend an educational trip to Yellowstone Park.
Students will spend time immersed in the geologic and natural wonders that Yellowstone Park has to offer.
Details
Work day is just around the corner, well, a month away. It's on Saturday, June 3 from 9 'til 4, at Covenant Hills, Cabot, Vermont. GPS will easily get you there.
Please bug your clubs to come and join us. We have a lot to do and we will have fun!
Faith Lodge is the main building that houses the kitchen, dining room and a large common room with a wood stove. Everything needs cleaning, but not the stove. That's to keep us warm!
Taylor Barn is an indoor game room that in the past we have played dodge ball hockey and put on plays. More cleaning.
Then there is the outside work, clearing between cabin pathways and loads of wood to cut up for camp fires.
Bring whatever you think might be useful - chainsaws, rakes, scrubbing things, etc., etc...
For more information contact Patricia at This email address is being protected from spambots. You need JavaScript enabled to view it..