Details

Published: 19 April 2018

19 April 2018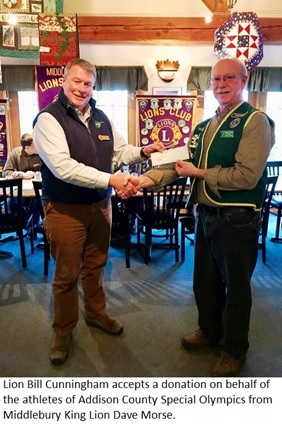 Many thanks from Special Olympics
On behalf of the athletes of Addison County Special Olympics, we thank the Middlebury Lions Club for their generous donation which will help to provide opportunity for 65 athletes to demonstrate their abilities. Special Olympics Vermont offers year round sports training and competition opportunities in 13 Olympic-type sports. Through sports training and competition the athletes develop physical skills and healthy life habits, but most important have fun. Friendships made and the sportsmanship demonstrated, brings smiles to the athletes, the volunteers, the coaches, and the parents. As every Special Olympian knows; "Let Me Win, But if I Cannot Win, Let Me Be Brave in the Attempt.
Be sure to look at the volunteer opportunities available with Vermont Special Olympics. The "Opening Eyes program" of the Vermont Special Olympics is again looking for Lions volunteers. Check out their invitation here.
Details

Published: 19 April 2018

19 April 2018
Story reposted from the 7/10/17 edition of the Addison Independent
Courtesy of the Addison Independent
By Will Digravio
High-tech glasses help blind woman 'see'
Lions gift restoring her independence
Thirty years ago, Louise Wright was told she would become blind. Four years ago, she did lose her sight completely, and began training herself to live as fully as possible in her new world of darkness. Thanks to a unique piece of technology she received, the Middlebury woman is regaining some measure of independence.
Details

Published: 17 April 2018

17 April 2018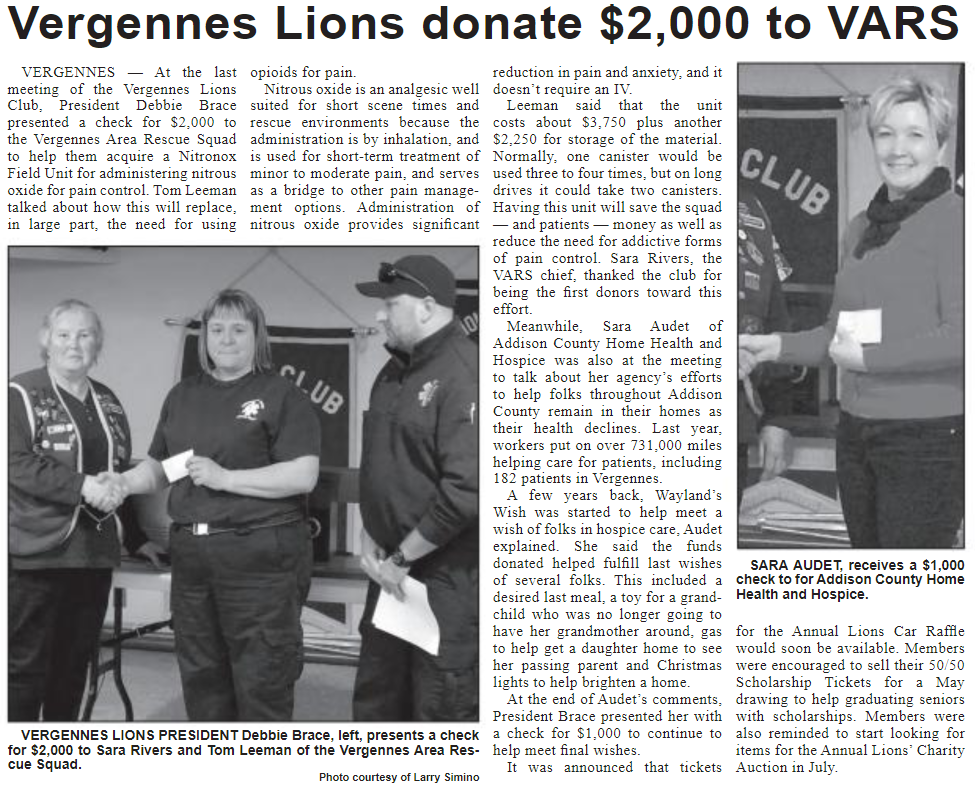 Story courtesy of the Addison Independent
Details

Published: 09 April 2018

09 April 2018
Vergennes Words for Thirds
Members of the Vergennes Lions Club last month handed out dictionaries to the 30 third graders at Vergennes Union Elementary School and to the 17 combined second- and third-graders at the Addison Central School. This program has been going on for a number of years in Ferrisburgh with the donors there being the local Grange. When Brandon-Forestdale Lion Mary Shields switched from Ferrisburgh to Vergennes this year, she suggested the Vergennes Lions might want to give the other children in the Addison Northwest School District the same opportunity. Her previous club has been doing this for a number of years in the Brandon area, and teachers there say the dictionaries help the students in their learning. The Lions Club members who handed out the dictionaries, with the individual students names in them, said it was one of the most enjoyable things they have done. The Lions talked about what their organization does locally, statewide and around the world through it's 1.4 million members. The students were very attentive, asked good questions, and many commented on what their own family does to help others.